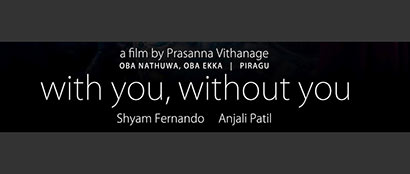 CHENNAI: A couple of days after theatres stopped screening Sri Lankan film 'With You, Without You' citing threats from some groups, co-producer of the movie and prominent documentary filmmaker Rahul Roy on Monday petitioned chief minister J Jayalalithaa. Supporting Roy who has sought safe screening of the movie across the state, 101 people including filmmakers, writers, civil servants and activists have signed the petition.
The film screening in Chennai was cancelled on Saturday after managers of two multiplexes received threatening phone calls from people who claimed to represent some Tamil groups. The film is an Indo-Sri Lanka collaboration, directed by Sri Lankan filmmaker Prasanna Vithanage.
"We are seeking your intervention not only as the constitutional authority of the state, but also as a supporter of the filmmaking fraternity," the petition to Jayalalithaa read. "We cannot let mobs rough ride filmmakers' right to freedom of expression enshrined in our constitution and deprive audiences the right to see films they wish to. We appeal to you to protect our constitutional rights."
IAS officer Alex Paul Menon, documentary maker Amudhan, writer and filmmaker Gnani Sankaran, documentary maker Leena Manimekalai and poet Kutti Revathi are among the signatories from Tamil Nadu. "I saw the movie and it's a sensitive and artistic film," said Gnani Sankaran. He said he is opposed to any ban on books or films by fundamentalists or politicians. "It should be shown to the public. Anyone can question the fact of the film or the book. You can disagree with the film, but it should not be banned," he added.
Tamil director Thangar Bachan posted his appreciation for the movie on his Facebook page. Many activists have been discussing the issue on social media. Artist and social activist from Gurgaon, Amina Shervani, Mumbai-based writer Ananya Mohanty, Delhi-based filmmaker Anupama Srinivasan, executive director of India Foundation for the Arts Arundhati Ghosh from Bangalore, cinematographer Bobby Kapoor, filmmaker and cultural activist Harsh Narayan from Delhi, Kolkata-based film producer and director Jayabrato Chatterjee also signed the petition.
Meanwhile, PVR Director's Rare head Shiladitya Bora said that the film will not be screened in their multiplex. "We don't want to take a risk," he told TOI. Pro-Eelam voices on the internet said none of them had issued any threat to the theatres over screening of the movie.
(The Times of India)