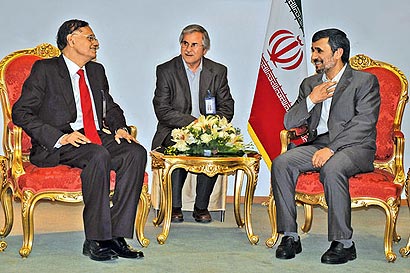 Iranian President Mahmoud Ahmadinejad yesterday assured support to Sri Lanka's rapid economic and infrastructure development. President Ahmadinejad who met External Affairs Minister Prof G L Peiris of the strength of the bond between the two countries reiterated Iran's continuing support for Sri Lanka in the challenging tasks connected with rapid economic and infrastructure development in the new phase in Sri Lanka's history.
Prof Peiris, who represented President Mahinda Rajapaksa at the 9th Asia Co-operation Dialogue in Tehran, had discussions with President Ahmadinejad.
Professor Peiris, who conveyed President Rajapaksa's felicitations to President Ahmedinejad, expressed appreciation of Iran's support at a difficult time, when Sri Lanka had the benefit of an interest free credit facility which Iran had extended for seven months for the purchase of oil.
Minister Peiris told the Iranian President that the Uma Oya and Rural Electrification Projects which were being implemented with Iranian assistance, were under way and they will confer immense benefits on the rural populace.
He told President Ahmedinejad that he had fruitful discussions in Tehran with Iran's Commerce and Foreign Affairs Ministers on several aspects of the Sapugaskanda Refinery Project for early finalization.
Sri Lanka, as the former Chair of the Asia Co-operation Dialogue, is a member of its Troika – with Iran and Kuwait. Thirty-one countries across Asia participated in the session in Tehran.
Prof Peiris, in his address to the Conference, drew the attention of Asia's leaders to the achievements of Sri Lanka not only in overcoming terrorism against overwhelming odds, but also combining economic development at the level of 8.5 percent with social equity, in the form of distribution of the fruits of development across the country as a whole, as well as in putting in place imaginative home-grown structures and as the Lessons Learnt and Reconciliation Commission in response to imperatives of reintegration and rehabilitation in the post-conflict era.
Prof Peiris was invited by the Iranian Government to participate in the media conference which marked the conclusion of the ninth Session of the Asia Co-operation Dialogue in Tehran.
Daily News