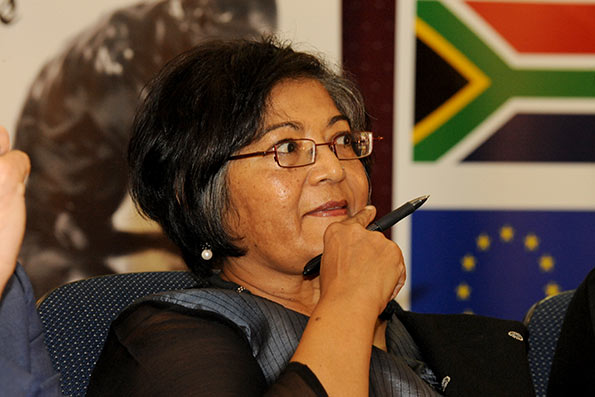 The International Truth and Justice Project (ITJP) Sri Lanka, headed by South African rights activist Yasmin Sooka, has asked the Sri Lankan government to give information about the whereabouts of 110 LTTE  leaders who had surrendered to the Lankan military in full public view on May 18, 2009.
"Those who surrendered on 18 May 2009 were screened and put in a barbed wire holding area just south of the Wadduvakkal Bridge, which was in the control of the Sri Lankan armed forces. Many surrendered with an elderly Catholic Priest, Father Francis Joseph, who recorded the names of surrendered LTTE cadre in a list for the military. Many eyewitnesses saw these prisoners, and in some cases their family members, loaded on a series of buses and taken away by the military. They and the priest have not been seen since being taken custody of by the military," an ITJP press release said on Monday.
"The failure on the part of the authorities to carry out a proper investigation into their subsequent disappearance is a further injustice as well as a personal tragedy. Under the Joinet/Orentlicher Principles to combat Impunity, families and relatives have an imprescriptible right (a right which cannot be taken away by time) to the truth about the fate and whereabouts of their loved ones," the release said.
"We also call upon the government of Sri Lanka to become a signatory to the International Convention for the Protection of All Persons from Enforced Disappearances. We welcome the news that the Working Group on Enforced or Involuntary Disappearances is to be allowed to visit Sri Lanka and we urge the Government of Sri Lanka to cooperate fully with them and to allow unmitigated access to families of the disappeared ensuring that there will be no reprisals against them," the ITFP said.
In April this year, Sri Lanka's own Disappearances Commission had complained in its interim report about the non-cooperation of the Ministries of Defence and Justice when asked to give information about the whereabouts of those who surrendered. However, former Defence Secretary Gotabaya Rajapaksa had said that many of the "disappeared" might have fled the country and living incognito in the West.
(Source: ENS)