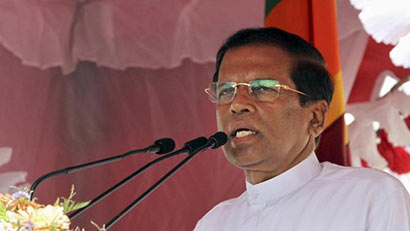 President in his address to the nation says to focus on reconciliation to heal the broken hearts & minds along with other development activities.
The annual War Hero commemoration, the 'Ranaviru Commemorative Parade – 2015', is currently being held in Matara.
B.M.U.D Basnayake, Secretary, Ministry of Defence, along with General Jagath Jayasuriya, Chief of Defence Staff, Lieutenant General Crishanthe De Silva, Commander of the Army, Vice Admiral Jayantha Perera, Commander of the Navy, Air Marshal K.A Gunatilleke, Commander of the Air Force, N.K. Illangakoon, Inspector General of the Police (IGP), Chandrarathne Pallegama, Director General, Civil Security Department and a few other senior officers of the tri-services are also at the venue in Matara.