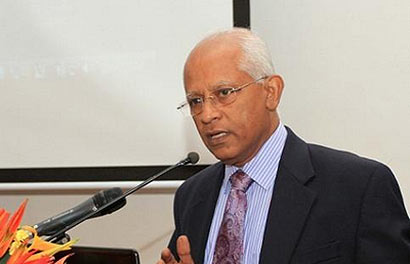 Former Presidential Secretary Lalith Weeratunga on Friday (16) publicly acknowledged instructing former Media Minister Keheliya Rambukwella, to appoint Anura Siriwardena as chairman of the Independent Television Network (ITN), replacing well-known media personality Rosmond Senaratne, in violation of procedure.
Weeratunga and former Secretary to the Media Ministry, Charitha Herath, made statements during the first public hearing of the Presidential Commission of Inquiry to Investigate and Inquire into Serious Acts of Fraud, Corruption and Abuse of Power, State Resources and Privileges (PRECIFAC) on Friday (16). Weeratunga, when queried about the appointment, admitted to having written to Rambukwella instructing the appointment, as per presidential orders.
The Commission was probing allegations with regard to the appointment of ITN's head in September 2014, in violation of standard procedure amounting to abuse of power.
Herath, when questioned as to whether a media minister had the power to appoint a chairman, said it was the usual practice for the Media Minister to "suggest names." When shown ITN's Articles of Association, Herath acknowledged the Media Minister lacked the capacity to appoint a chair as it was a matter for the Board of Directors.
Herath also referred to several rounds of discussions being held over ITN's losses and when queried further, withdrew his statement.
ITN's financial records indicated that during Senaratne's tenure, the institution has recorded significant profits. ITN had garnered a nett profit of Rs. 308 million in 2010, Rs. 481 million in 2011 and Rs. 575 million in 2012. In the year, the profit reached Rs. 634 million and in 2014, it stood at Rs. 421 million.
Senaratne served as ITN Chairman from November 2010 to 9 September 2014.
The second public hearing is fixed for October 29 and 30.
(Sunday Observer)