Jaffna University students meet President Rajapaksa
Posted by Editor on April 12, 2011 - 8:35 am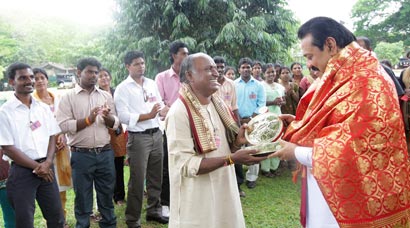 Onlanka News – By Janaka Alahapperuma
(Pix by: Sudath Silva)
Students from the Ramanathan Academy of Fine Arts of Jaffna University enjoyed a very rare opportunity today on 11 April when they visited Colombo for an educational trip. It is the first time in their lifetime these students have visited southern part of Sri Lanka. They met President Mahinda Rajapaksa when they visited Temple Trees this afternoon.
Travel between the North and South had been barred or restricted as the country was engulfed in terrorism for thirty years. After defeating brutal terrorism in May 2009 Sri Lankans have the freedom to travel to every corner of the country and students from the Ramanathan Academy of Jaffna University took the opportunity to visit Colombo.
Happy students praised President Rajapaksa for eradicating terrorism and taking measures to establish lasting peace and harmony in the country providing opportunity for the public, especially in the north and east to live without fear. Students also said that they have been able to continue their studies without any disruption following the end of terrorism.
Pictures are seen here President Rajapaksa is discussing with the students their academic progress and other matters related to their day to day life in the Jaffna peninsula. During the mutual discussion with the students the President also pledged to solve the problems pertaining to the university students in the north and east.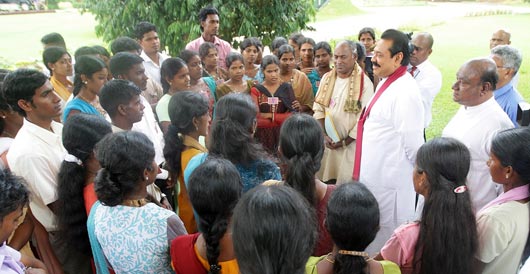 Latest Headlines in Sri Lanka