Japan to roll out the red carpet for Sri Lankan president
Posted by Editor on March 3, 2018 - 7:39 am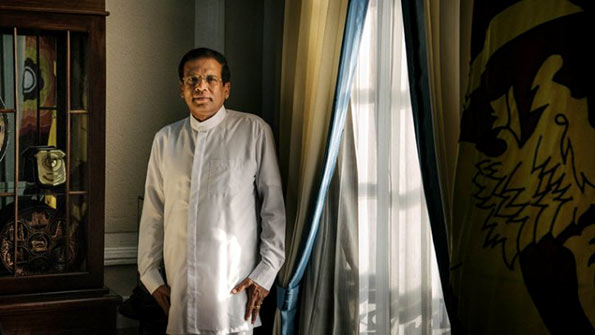 Japan is expected to reaffirm its commitment to bolstering bilateral ties with Sri Lanka during an official visit by the Indian Ocean nation's leader this month in an effort to forestall Chinese encroachment in the region.
President Maithripala Sirisena will meet with Japanese Prime Minister Shinzo Abe on his March 12-15 trip. His itinerary also includes meeting with Emperor Akihito and Empress Michiko.
When meeting with Sirisena, Abe will likely confirm closer collaboration in such areas as the economy and stress the importance of a free and open Indo-Pacific region.
Occupying a strategic spot in a sea lane connecting the Indian and Pacific oceans, Sri Lanka is an important piece of the puzzle in China's Belt and Road Initiative, a grand project to create a sweeping economic zone encompassing Asia and Europe. China has for this reason launched a diplomatic offensive targeting Sri Lanka and the Maldives, another strategic country in the Indian Ocean.
Japan is expected to try to keep Sri Lanka from leaning back toward Beijing by improving cooperation with Sirisena and supporting his administration's diplomatic strategy.
Sirisena advocates a balanced diplomacy including Japan, India, Europe and the U.S. But he is facing a challenge from former President Mahinda Rajapaksa, a pro-Beijing political figure vying to return to power. His party won a landslide victory in local elections last month.
(NIKKEI)
Latest Headlines in Sri Lanka