Japan will always stand by Lanka – Akashi
Posted by Editor on March 12, 2012 - 7:46 am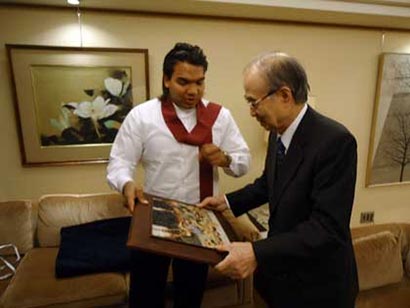 Japan will always support and stand by Sri Lanka whenever assistance is needed, special representative of the Japanese government for Sri Lanka, Yasushi Akashi told MP Namal Rajapaksa.
Akashi made these remarks when he met the MP in Tokyo, Japan.
MP Rajapaksa is in Tokyo to attend the annual Sri Lanka Tea and Trade Promotion Seminar and also for bilateral discussions with key Japanese dignitaries.
Rajapaksa during discussions on Thursday, informed Akashi of the progress in the country and the rapid development in the North and East.
MP Rajapaksa also emphasised the role played by the government in resettling the people in their villages in the North and East and the reconstruction of their homes, which is a key priority of the government.
He informed that the reconciliation programme for rehabilitated cadres is also progressing successfully and a large number of rehabilitated cadres have now been sent back to their villages with special financial assistance given by the government for them to start self-employment projects.
Rajapaksa while stressing the rapid development taking place in the North and East, expressed the government's strong commitment to the people of this region with 70 percent of foreign grants and loans already being extended by the government to develop the region.
Akashi while congratulating the Sri Lankan government for the progress being made in Sri Lanka, expressed his views on the current status of the Lessons Learnt and Reconciliation Commission (LLRC) report and the need for Sri Lanka's commitment to the full implementation of the LLRC report.
Akashi also stressed the importance of the strong bilateral relations between Japan and Sri Lanka.
He also said that Japan will always support and stand by Sri Lanka whenever assistance is needed.
Rajapaksa acknowledged the continuous assistance and support extended to Sri Lanka by the Japanese government over the years and expressed the need for stronger bilateral relations highlighting the 60 years of diplomatic relations between Sri Lanka and Japan being commemorated in both countries this year.
Courtesy: Daily News
Latest Headlines in Sri Lanka