Japanese Foreign Minister discusses cooperation and regional stability with Sri Lanka President
Posted by Editor on July 29, 2023 - 7:14 pm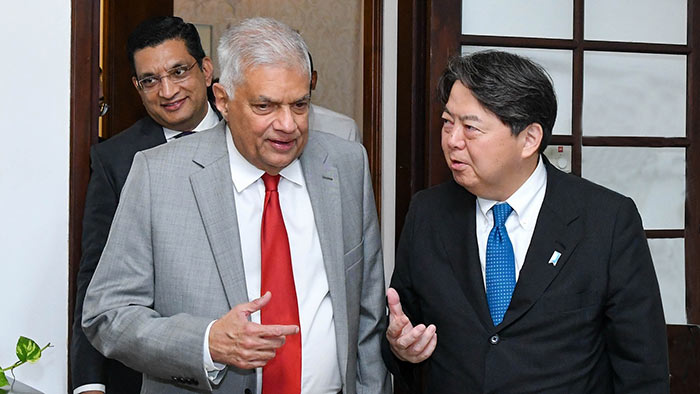 Foreign Minister of Japan Hayashi Yoshimasa paid a courtesy call to President Ranil Wickremesinghe in Colombo today (July 29).
During the meeting, the two dignitaries engaged in discussions concerning the bilateral relationship between Japan and Sri Lanka, with a mutual commitment to further strengthen their traditionally robust ties, the President's Media Division (PMD) said.
President Wickremesinghe expressed his gratitude to the Japanese Government for their support in the debt restructuring process and shared details of French President Emmanuel Macron's offer, aiming to play a pivotal role in enhancing the common platform for debt restructuring and expediting the process.
Another significant aspect of their talks revolved around key areas of cooperation, namely the Light Rail Transit (LRT), the East Terminal, the Kandy Development Plan, Central Highway, and the expansion of the Bandaranaike International Airport. Both parties expressed the importance of expediting the implementation of these projects.
Additionally, they delved into bilateral, regional, and global issues, emphasizing their shared commitment to maintaining the region as a peaceful and stable area. President Wickremesinghe also highlighted the investment opportunities in Sri Lanka's high-tech industries, envisioning a transformation from a labour market-oriented economy to one that caters to cutting-edge technological advancements. This strategic move is expected to present significant prospects for Japanese investors.
The visiting Minister, Hon. HAYASHI Yoshimasa, arrived in Sri Lanka on July 28th for a two-day official visit. During his stay, he will engage in discussions on bilateral relations with President Wickremesinghe, Prime Minister Dinesh Gunawardena, and his Sri Lankan counterpart, Minister Ali Sabry.
Accompanying Minister Yoshimasa for these discussions were esteemed Japanese officials, including Murakami Manabu, the Senior Foreign Policy Coordinator; Arima Yutaka, the Director General of Southeast and Southwest Asian Affairs; Endo Kazuya, the Director General of International Cooperation; and Okano Yukiko, the Deputy Press Secretary from the Japanese Foreign Ministry.
Additionally, present at the talks were HE Hideaki Mizukoshi, Ambassador of Japan to Sri Lanka, Tomosaburo Esaki, Executive Assistant to the Minister, Mr Taro Tsutsumi, Director of the Southwest Asian Affairs Division, and a delegation of Japanese Foreign Ministry officials.
The Sri Lankan delegation included Minister of Foreign Affairs Ali Sabry, the Senior Advisor to the President on National security and Chief of Staff Sagala Ratnayaka, Foreign Secretary Aruni Wijewardane, Economic Advisor to the President Dr. R.H.S. Samaratunge.
Latest Headlines in Sri Lanka