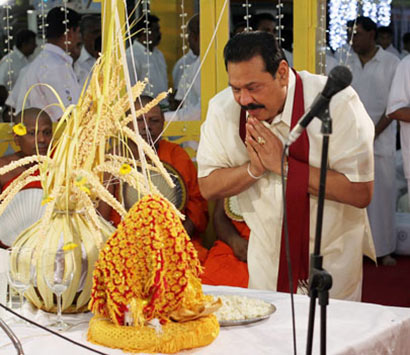 The "Jaya Pirith" chanting ceremony was held at the BMICH yesterday, (02) nvoking blessings to the country, the President and the war heroes with the participation of 3000 monks invited from all parts of the Island.
The Ministry of Defence organized the "Jaya Pirith" chanting ceremony for the fifth time in succession.
Mahanayaka of the Asgiriya Chapter Most Ven Udugama Sri Buddharakkitha Thero, Anunayaka Thero of Malwatta Chapter Ven Niyangoda Vijithasiri Thero, Parivenadhipathi of Vidyalankara Pirivena at Kelaniya and Chief Adhikarana Sangha Nayake Thero of Colombo and Chilaw divisions Most Ven Welamitiyawe Kusaladhamma Thero were among the erudite monks who
participated in the Pirith chanting ceremony at the BMICH.
President Mahinda Rajapaksa, First Lady Shiranthi Rajapaksa, Economic Development Minister Basil Rajapaksa, Secretary to the President Lalith Weeratunga, Defence Secretary Gotabaya Rajapaksa, Service Commanders of Army, Navy and Air Force and IG of Police were among
those present.
An alms giving following the "Jaya Pirith" chanting ceremony was held morning, today (03) with the participation of 100 monks at BMICH.
President Secretary, Ministers, Governors, Secretaries, Tri Service Commanders, IG of Police, Senior Service personnel and a large number of distinguished guests including MOD officials were also present at the Jaya Pirith chanting ceremony.
Source: Government News Portal