JAYALALITHA WANTS TAMIL NADU FISHERMEN TO FISH IN KATCHATEEVU WATERS
Posted by Editor on July 24, 2012 - 7:09 pm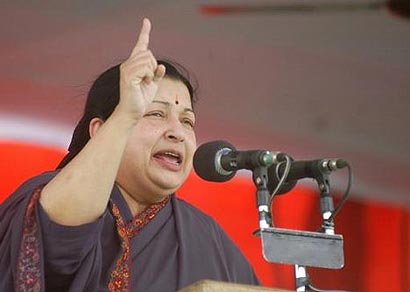 Onlanka News – by Walter Jayawardhana
Tamil Nadu Chief Minister Jayalalitha has insisted the Central government.that arrangements should be made with Sri Lanka government to ease Indian fishermen to fish in the Sri Lanka waters off Katchteevu.
Chief Minister of Tamil Nadu Jayalalithaa Jeyaram on July 23 requested Prime Minister Manmohan Singh to arrange for the immediate release of 23 fishermen from Rameswaram, apprehended by the Sri Lankan Navy on previous day, off Katchatheevu of Sri Lanka and take up with the Sri Lankan government the need to advise its Navy to refrain from arresting fishermen.
In a letter to Dr. Singh, the Chief Minister brought to his notice the latest incident which, she stated, was the second one in 15 days.
The fishermen are at present at Thalaimannar in Sri Lanka, having been remanded for two weeks.
"The incidents of apprehension and harassment by the Sri Lankan Navy have become a regular occurrence in the past two months, especially after the end of the fishing ban period. The intention of the Sri Lankan Navy to instill fear in the minds of the fishermen and prevent them from fishing in their traditional waters is very obvious from the incident of apprehension.
"The actions of the Sri Lankan Navy have created a feeling of insecurity in the minds of the fishermen, who feel that there is no guarantee for their life and property in the sea, in the prevailing situation," wrote Ms. Jayalalithaa.
She said that the Sri Lankan Navy would suspend apprehension and harassment only when diplomatic-level meetings were convened on the fishing issue but would resume such activities immediately thereafter, much to the woes of the fishermen.
"Unless the Government of India intervenes in this issue, there is every possibility of recurrence of such incidents in the coming months," she added.
Latest Headlines in Sri Lanka