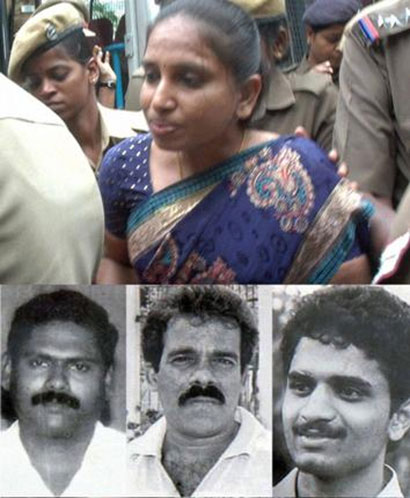 Rajiv Gandhi killers (clockwise from top) Nalini, Perarivalan, Murugan and Santhan. The Tamil Nadu Government on Wednesday decided to release all the convicts related to the case.
CHENNAI: Tamil Nadu chief minister J Jayalalithaa triggered outrage in the Congress and elsewhere on Wednesday by announcing her government's decision to release all seven convicts in the Rajiv Gandhi assassination case. It immediately sparked a heated political row with Congress leader Rahul Gandhi asking, "If a Prime Minister's killers can be released, what kind of justice should the common man expect?"
Rahul, who was in Amethi when the news reached him, said, "The PM of our country was killed, I am sad killers are being released." He added, "My father will not come back but it is a matter of the country, not of my family or my father."
Jayalalithaa clearly sees the Supreme Court decision on Tuesday as an opportunity in the run-up to the Lok Sabha election to capitalize on a perceived anti-Congress mood and upstage arch-rival M Karunanidhi in wooing the Tamil nationalist vote. Consequently, she made plain her intentions to free the convicts irrespective of the Centre's opinion.
"Whether the Centre sends its reply or not, accepts or rejects (the cabinet decision), we are not concerned and will set free the convicts. That's quite certain," Jayalalitha told the state assembly, amid thumping of desks.
Legal experts, however, questioned the validity of her claim as the state advisory board alone had the powers to process remission pleas of lifers.
The top legal minds of the central government were in a huddle at night to work out the strategy to prevent the killers from walking free. The BJP also expressed its dismay over Jayalalithaa's decision.
In its order, the SC had said the state could exercise its remission powers to get the convicts released. Section 435 of the CrPC while empowering the state government to remit or commute a sentence, requires it can do so only after consultation with the Centre.
(Source: Times of India / Pix by The Hindu)