Jayalalithaa wants economic sanctions against Sri Lanka
Posted by Editor on February 9, 2013 - 12:34 pm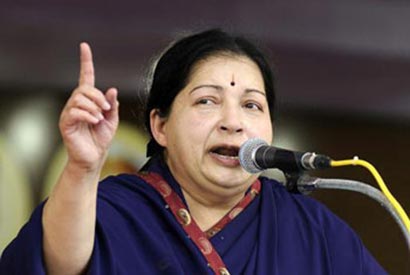 CHENNAI: Tamil Nadu chief minister J Jayalalithaa has asked the Congress-led UPA government at the Centre to move a resolution before the UN Human Rights Council to impose economic sanctions against the Sri Lankan government till the Tamils displaced by the ethnic war are given their rights on par with the Sinhalese.
Replying to the debate on the governor's address to the TN assembly, Jayalalithaa said the resolution could be based on the one adopted by the TN legislature in June last year.
"I reiterate once again that the Centre has to consider the Assembly resolution for the welfare of the Tamils," she said. The resolution adopted in June 2011 urged the Centre to initiate action by working with other nations for imposition of an economic embargo on the Lankan government and declare perpetrators of genocide as war criminals, till the Tamils living in camps are resettled in their own places and allowed to live with dignity, self-respect and equal constitutional rights on par with the Sinhalese." Her statement comes at a time when the United States proposes to pilot yet another resolution against Sri Lanka before the UNHRC.
Accusing the Manmohan Singh government of overlooking the safety of Tamil fishermen, Jayalalithaa said the Centre should prevail upon the Lankan government to maintain restraint and prevent attacks.
India Times
Latest Headlines in Sri Lanka