Rajapaksa prays at Tirumala temple
Posted by Editor on February 9, 2013 - 12:31 pm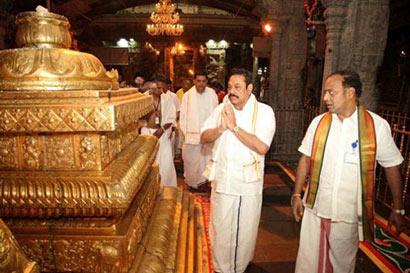 Sri Lankan President Mahinda Rajapaksa on Saturday offered prayers at the Lord Venkateswara shrine in Tirumala.
Mr. Rajapaksa who is on a two-day visit to the holy shrine participated in the Suprabhata seva – a pre-dawn ritual performed in the early hours. He was accompanied by his wife Sharathi Rajapaksa besides a 70 member delegation.
Even though he is entitled to the 'Mahadwaram' entry he rather preferred reaching the temple complex through the Vaikuntam queue complex like any other commoner.
Speaking to media persons after coming out of the temple Mr. Rajapaksa reacted strongly to the wide spread protests that rocked his visit and said that in a democratic country such as India everybody has a right to protest. Why don't you come to Sri Lanka for a first hand assessment and see for yourself what the truth is, he said in a indirect reference to the allegations that he had masterminded the 'genocide' of the Tamils and his government responsible for the desecration of thousands of Hindu temples in the island nation.
Earlier as is the practise, the temple priests honoured him with the silk vastram of the presiding deity while the TTDs Joint Executive Officer K.S. Srinivasa raju presented him with the laddu prasadam and memento of the presiding deity.
Meanwhile the police authorities who had made unprecedented security arrangements heaved a sigh of relief with no untoward incidents being reported and the darshan programme passing away peacefully.
Winding up his two-day personal visit to the country President Rajapaksa is expected to motor down to the Tirupati airport and take off to Colombo at 11.30 am. in a special aircraft.
The Hindu
Latest Headlines in Sri Lanka