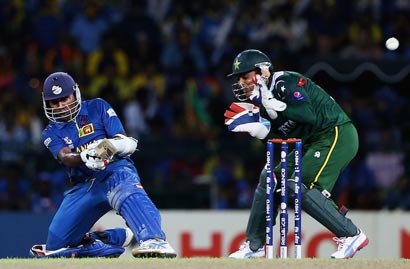 Sri Lanka 139 for 4 (Jayawardene 42, Dilshan 35) beat Pakistan 123 for 7 (Hafeez 42, Herath 3-25) by 16 runs
On a crumbling, turning, brute of a pitch by Twenty20 standards, Mahela Jayawardene responded with a T20-size classic. His 42 off 36, as delightful as it was delicate, proved to be the difference between the two sides in a tight semi-final. It was a bitterly disappointing night for his opposite number: Mohammad Hafeez outmanoeuvred a rampant Kumar Sangakkara in a crucial moment in the first innings, he came back from a horribly slow start to his own innings, but fell on 42 with some way to go for Pakistan.
It was Sangakkara who returned the favour with a superb stumping off a grubber to send Hafeez back with 48 to defend in 35 balls. Hafeez, who had just opened up with an extra-cover drive, a reverse-swept four and a punch through covers, was this close to making this his own night, but it was to be Sri Lanka's, who won their first Twenty20 international at R Premadasa Stadium, in the process successfully adjusting to a third venue in this tournament, the most for any team.
The powdery surface began to explode upon impact by the third over of the first innings. This was no place for average batsmen who stand there and swing from the hip. This would need a quality batsman. On turning tracks, they don't come better than Jayawardene. With the ball turning square at times, he stayed low, swept and reverse-swept often to play with the spinners' rhythm. Tillakaratne Dilshan, his opening partner, seemed to be batting on a different pitch.
It was not just that he was sweeping and reversing, it was the range of that shot, able to beat the two square fielders on either side. He connected with four reverse-sweeps, scoring 12. Then there was the regulation sweep and the lap shot. Jayawardene's effort here was reminiscent of his hundred in the semi-final of the 50-over World Cup of 2007. Just when he was running away with this thing, he failed to connect well with a lap off Afridi, giving Pakistan their first wicket.
That didn't bring them any relief, though. Sangakkara began with a four to midwicket first ball, and later displayed a lovely chip over extra cover. Hafeez was about to get into the game now. Watching Sangakkara move too much around the crease, Hafeez pulled out off a delivery. When he did ball, he bowled it wide and out of reach of the moving Sangakkara, and prised out a catch in the deep.
Now, with Dilshan looking to break free, Umar Gul and Saeed Ajmal bowled three big overs. Gul got the better of Dilshan, who was looking to break free after having been nine off 18 at one point. Ajmal, who conceded 20 off his first two overs, came back with a six-run 19th over. Gul missed his yorkers by the slightest of margins in the last over, Thisara Perera and Angelo Mathews took toll of it, and Sri Lanka came out confident of defending 139.
Pakistan never managed any flow to their reply. Imran Nazir swung from the hip. He hit some and missed some before playing on a quick delivery from Ajantha Mendis, making it 31 for 1 after six. Hafeez, having a horror with the bat, had just begun to recover in company with Nasir Jamshed when an umpiring error turned the game around.
It was a slower offcutter from Mathews from over the stumps, hitting the middle stump of the left-hand Jamshed, but he was given out by Rod Tucker. In the same over, another offcutter sent Kamran Akmal back. The game had turned. Hafeez now began to swin against the tide. In what was now becoming a contest of the captains, Jayawardene prevailed.
He had brought in Rangana Herath, who is slower in the field than most, but Herath it was who bowled the decisive over. He needed help from Sangakkara, who reacted exceptionally to a shooter, and stumped Hafeez in a flash. Shahid Afridi fell for another golden duck, and those waiting for the Umars, Akmal and Gul, to do something about were willing the lightning to strike twice. It didn't.
ESPN CricInfo