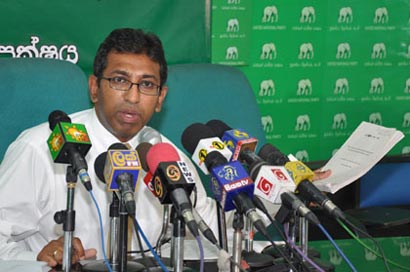 The very recent fiscal and government borrowing numbers released by the Central Bank fail to inspire confidence in the economy and concerns are mounting that taxes could be raised while key public investments too could be cut as was the case in the past resulting in more hardship for the people.
With the budget deficit showing signs of veering off target, Opposition MP and Economic spokesman for the UNP Dr. Harsha De Silva yesterday reiterated that the government would have to increase taxes, duties and utility rates while sacrificing much needed public investments in critical areas of the economy such as education.
A greater allocation has been made for defence and urban development, up Rs. 60 billion from the previous year to Rs. 290 billion while higher education and education have been allocated Rs. 28 billion and 38 billion each.
While defence is a critical area, the government is also spending a lot on urban development and there is some tendency to get carried away.
"This is just one example to show how the government was getting its priorities mixed up. Should the government be spending so much on pavements and jogging tracks instead of improving basic infrastructure in our schools," Dr. De Silva, a trained economist said.
According to the latest Household Income and Expenditure Survey, Dr. De Silva said private citizens spend Rs. 62 billion on education. "The survey does not reflect wealthier homes where, according to my estimates, around Rs. 200 billion is spent on education each year. So free education is an oxymoron," he said.
With the budget deficit coming under pressure, Dr. De Silva warns that education and other public services could see some cuts.
The Island Financial Review reported last Monday (01), total government revenue as at end July reached Rs. 564.4 billion, an increase of 12.85 percent from a year ago. Total expenditure reached Rs. 981.7 billion, increasing 25.13 percent from a year ago.
Tax revenue during the period January to July 2012 amounted to Rs. 490.4 billion, growing 11.93 percent from a year earlier. Non tax revenue grew 17.53 percent to Rs. 65.7 billion while grants grew 37.7 percent to Rs. 8.4 billion.
Recurrent expenditure grew 19.40 percent to Rs. 695.3 billion while capital expenditure or public investments grew 41.64 percent to Rs. 286.4 billion.
The overall budget deficit as at July 2012 reached Rs. 417.3 billion, expanding 46.72 percent from a year earlier, reaching 5.56 percent of GDP during the first seven months of this year. The full year target is 6.2 percent.
Before 2010, all governments have been sacrificing public investments in order to meet runaway recurrent expenditure. The government has been able to reverse this trend during the last few years, but with IMF off its back, the government could easily go back to the old formula.
"Last year we saw capital expenditure on education fall from 48 percent, so it becomes clear the government is willing to sacrifice investment in areas less lucrative to it," Dr. De Silva charged.
"The fiscal numbers for the first few months are terrible! The government will have no option but increase taxes and duties, electricity rates are likely to be increased as well given the heavy losses sustained by the CEB," he said.
Meanwhile, the government's borrowing targets have also gone off track, according to data released by the Central Bank (See The Island Financial Review Tuesday, October 02).
"The government tells us that it is borrowing for development, but given the huge revenue deficit who is the government trying to fool?"
Courtesy: The Island