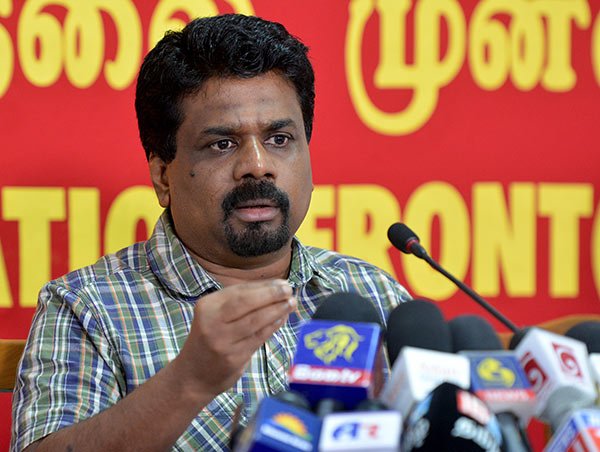 The JVP would not to sign the no-confidence motion to be moved by the Joint Opposition (JO) against Prime Minister Ranil Wickremesinghe, JVP sources told The Island yesterday.
JVP sources, however, said they would support the motion if it cited as one of the reasons for trying to oust the PM the delay on his part to take action against those behind large scale irregularities during the Mahinda Rajapaksa administration. Given the fact that the JO comprised Mahinda Rajapaksa loyalists such a clause being included in the motion was highly unlikely, sources said.
A senior JVP member said: "The party will look at the content of the motion and decide what to do. Our belief is that the main reason for people and Parliament losing faith in Wickremesinghe is the delay in investigating the instances of mega corruption during the Rajapaksa administration and punishing the culprits. The re government obtained a popular mandate to do so and the PM has acted in violation of it."
The JO is collecting signatures for the motion and state minister T. B. Ekanayake has also signed it. State minister Sudarshini Fernandopulle told media that she was also considering supporting the motion.
Secretary of the United People's Freedom Alliance Minister Mahinda Amaraweera said that the SLFP-led alliance had not yet decided whether to support the motion or not. The UNP backbenchers would also not support the motion, MP Thushara Indunil said.
The no-confidence motion against Prime Minister Wickremesinghe was likely to succeed as a number of MPs representing the SLFP and the UNP would support it, Minister SB Dissanayake said yesterday in Kandy. "We think that there will be significant changes thereafter. We are waiting to see the outcome of the motion," he added.
No party could muster a majority in 167 local councils without the support of the SLFP and the party was going to make the best deal for itself, said Minister Dissanayake. "We are currently holding discussions with other parties," he said.
Former President Mahinda Rajapaksa told media over the weekend that a number of UNP MPs had promised him that they would support the no-confidence motion against the Prime Minister.
(Source: The Island – By Ajith Alahakoon)