KARUNANIDHI SAYS HE DOUBTS RAJAPAKSA STATEMENT ON NORTHERN POLLS IN JAFFNA
Posted by Editor on July 12, 2012 - 2:41 pm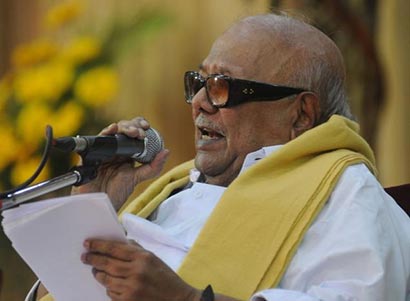 Onlanka News – by Walter Jayawardhana
DMK leader Muthuvel Karunanidhi said that he very much doubts about President Rajapaksa's statement on the Northern Provincial Council elections saying there is some "hidden meaning" on the polls scheduled a year from now as was said by the President.
"There seems to be some hidden meaning in Mr. Rajapaksa's comments that electoral rolls have to be revised," he told reporters in Chennai when asked about the Sri Lankan President's remarks that they wanted to hold the election to the provincial council in September 2013.
Karunanidhi did not clarify exactly what he is skeptical about the Rajapaksa statement.
Rajapaksa had told the Hindu among other things the electoral voter registers were not up to date and more than 30 years old.
"Mr. Karunanidhi said an imprisoned LTTE cadre Ganesh Nimalaruban was allegedly murdered by prison and police officers for revolting and his parents were denied permission even to cremate his body in their native place Vavuniya.
"Besides another person was said to be unconscious in hospital.
"Only to find a solution to these problems, the conference of Tamil Elam Supporters Organisation was being organised, he said referring to the proposed meet of the forum revived by him recently to take up the cause of Sri Lankan Tamils."
Latest Headlines in Sri Lanka