Karunanidhi wants Centre to back 'Eelam' campaign
Posted by Editor on April 26, 2012 - 8:39 am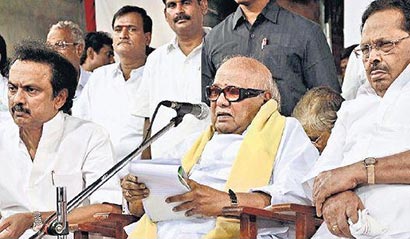 Onlanka News – By Walter Jayawardhana
Going ahead with his campaign for carving out a separate 'Tamil Eelam' in Sri Lanka, Dravida Munnetra Kazhagam president M. Karunanidhi on Wednesday sought the revival of the Tamil Eelam Supporters Organisation (TESO), an outfit he was associated with in the 1980s, to fight for a separate State for Tamils on Gandhian lines.
Declaring the creation of the separate state his life's ambition despite the policy of the central government is totally against it the Chief Minister said he wants  the Central government of which he is a member  to toe the line.
Addressing a public meeting, organised by the party in Kolathur constituency in Tamil Nadu, Mr. Karunanidhi, a key partner in the ruling United Progressive Alliance, appealed for the Centre's support for creating Tamil Eelam.
Foreseeing a new rising there, he said the struggle should be peaceful and in the path of non-violence adhered to by S J V Chelvanayakam, or Thanthai Selva, founder of the Federal Party in Sri Lanka
"The Sri Lankan President may reject the idea, but it will be my life's mission hereafter," the DMK leader said.
Tamils here should raise support for 'Eelam' by reviving the TESO, of which he was a founder, with the help of leaders such as Dravidar Kazhagam president K. Veeramani.who was initiallypromoting a separate state for Tamils in India..
The Hindu said earlier at the meeting DMK treasurer and Karunanidhi's son  M.K. Stalin addressed it.
When Karunanidhi initiated the call for a separate state in Sri Lanka commenting on it the Hindu said, "Tamil 'Eelam' is for Tamil Nadu politicians what the full moon is for hungry wolves. All their howling is indicative, not of any yearning for a distant, dreamy Eelam, but of the baser urges of the politics of the here-and-now"
Latest Headlines in Sri Lanka