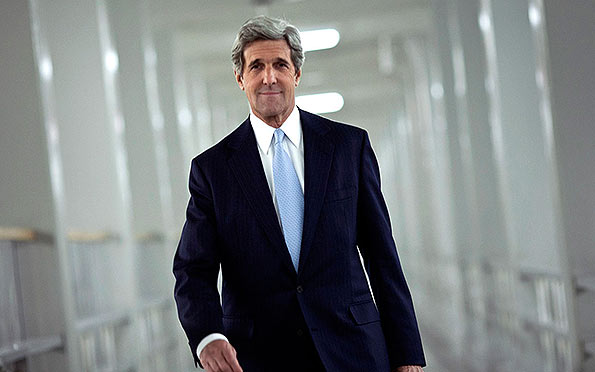 US Secretary of State John Kerry arrived in Sri Lanka a short while ago. It is the first time in a decade that a US secretary of state has visited Sri Lanka. The 35-member delegation was welcomed by Foreign Minister Mangala Samaraweera at the air port.
A senior State Department official, who briefed reporters on the visit, said Kerry's visit would focus on early efforts by Sirisena to advance democracy and human rights, tackle corruption, and launch a process of national reconciliation.
Kerry will meet with President Maithripala Sirisena, his Prime Minister Ranil Wickremesinghe and Foreign Minister Mangala Samaraweera, as well as R. Sampanthan, who heads the main ethnic Tamil political party.
He will also discuss U.S. interest in expanding trade and investment with Sri Lanka, the official said. The country exports roughly $2.5 billion in goods to the United States a year.
"A lot has to do with conditions on the ground and policies undertaken by the Sri Lanka government," the official added.
The official said Washington was "encouraged" by the new government's cooperation with the United Nations over a U.N. report on possible war atrocities during the final stages of the country's civil war.
The U.N. said Rajapaksa's government had failed to properly investigate war crimes. In February, at the request of Sirisena's government, the U.N. Human Rights Council agreed to delay the release of the U.N. report until September.
While Sirisena appears to be more wiling to work with the U.N., his government has said it wants to conduct the war crimes investigation with assistance from the U.N.
"It's a real opening in terms of Sri Lanka's relations with the international community and with the United Nations," the State Department official said of the cooperation with the U.N., adding: "We'll have to see where this goes with Sri Lanka and its dialogue with the U.N."
John Sifton, Asia Advocacy Director at Human Rights Watch, said Kerry should offer support and encouragement during the visit but not give the new government a seal of approval.
There were signs that the government was trying to set up a purely domestic mechanism to deal with war crimes despite assurances of international oversight, Sifton said.
"Kerry needs to tell Sri Lanka now that if they go down this purely domestic approach to the massive past crimes, the U.S.-Sri Lanka honeymoon is going to sour," he added. (With Reuters inputs / Daily Mirror)