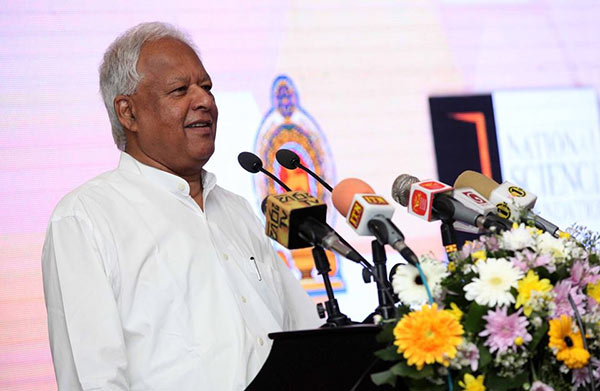 Amongst the two categories prevalent in most developing countries of the world, certain nations successfully keep moving on an upward line, while certain others move towards a downward trend. The basic difference behind this situation is the attitude that the people of a particular nation display towards the growth of Science and Technology.
Minister Sarath Amunugama expressing the above views at the awards ceremony of the National Science Foundation (NFS) tried to convey the importance of absorbing modern technology to solve the current issues of the country.
The award ceremony organized as an annual affair by the National Service Foundation aims to promote top performers of in the science field. The event held at BMICH recognized several prominent personalities under the categories of NSF research, Technology, the World Academy of Sciences and Support Scheme for Supervision.
Among the awardees of the occasion were, Prof. J.J. Wijetunga, Prof. Ranil S. Dissanayake and K.M.S. Bandara. They won awards in the fields of research and technology. While Prof Rangika Halwatura of the University of Moratuwa was recognized as the Young Scientist of the function held this year.
(Source: News 1st)