LANKAN BOXER MANJU WANNIARACHCHI FAILS IN B SAMPLE TEST
Posted by Editor on November 15, 2010 - 9:11 am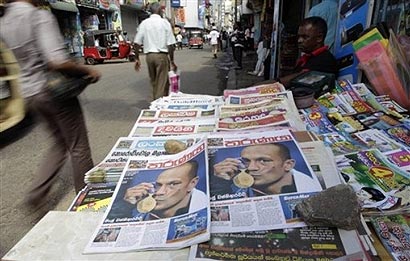 November 14, 2010: Manju Wanniarachchi, the Sri Lankan boxer alleged to have taken nandrolone, the banned performance enhancing drug at the Commonwealth Games in New Delhi, has failed in the B Sample test.
Dr. Geethanjana Mendis, chief of the Sports Medical Unit, confirmed this to Newsfirst a little while ago.
However, Kalinga Indatissa, the lawyer representing Manju Wanniarachchi, points out that the relevant urine samples had not been tested properly.
"We plan to challenge the results of the B Sample test," said Indatissa.
Manju was earlier declared to have taken the banned drug after the A Sample test. However, Manju challenged the findings and called on the organisers for a B Sample test.
He won the gold medal at the XIX Commonwealth Games Boxing Bantam Weight 56-kilo category.
Courtesy: News First
Latest Headlines in Sri Lanka