Lankan pilot killed in NZ crash
Posted by Editor on September 6, 2010 - 4:26 pm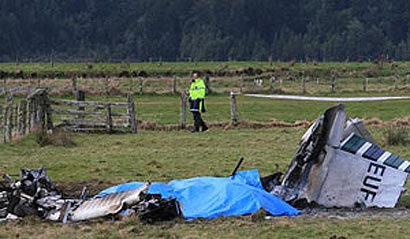 A Lankan born Queenstown skydive pilot, Chaminda Senadhira was killed along with eight other skydivers when their plane crashed in Fox Glacier in New Zealand. The plane crash is reported to be the worst in New Zealand aviation for almost 17 years.
Originally from Sri Lanka Mr. Senadhira had moved to Germany when he was 7 and then to New Zealand at the age of 22 to train as a pilot.
Chaminda Senadhira who was at the helm of the plane when it crashed was a veteran skydive pilot with thousands of hours of experience, a former employer says.
NZ Skydive Auckland operations manager Erica Coyle yesterday said pilot Chaminda Senadhira, 33, widely known as "Chami", trained at the company´s Mercer base before moving south.
"We don´t know what happened, but he would´ve been fighting to keep that plane in the air right until the end."
The deaths have rocked the close-knit community of pilots and skydivers throughout the country.
Wakatipu Aero Club president Peter Daniels said Mr Senadhira had been a well-respected social member of the club for about four years.
"He was probably one of the most experienced skydive pilots in the business," he said.
"Here in Queenstown those guys are flying a lot of trips almost every day."
Mr Senadhira would attend most functions, Mr Daniels said.
"Work kept him really busy, but he´d come around for a cup of tea. He also did his renewals for his own private flying with one of our instructors, and used us for ongoing safety audits."
The accident had shaken many club members.
"It´s distressing because of the number of deaths, but it would not have been caused by any inexperience on the part of Chami," Mr Daniels said.
Mr Senadhira is survived by his wife, Nina, and a 5-year-old daughter from a previous relationship. Mrs Senadhira is believed to be overseas.
Mr Senadhira showed such promise as a trainee pilot that NZ Skydive kept him on at Mercer, Ms Coyle said. "He was one of the best `jump´ pilots out there. It´s a small industry where everyone knows everyone, so it´s something that will be felt throughout the whole skydive community," she said.
Mr Senadhira´s daughter had been told of her father´s death soon after the crash, Ms Coyle said.
Mr Senadhira was believed to be working for Skydive New Zealand at the time of his death.
Also killedwere divemasters, Adam Bennett, 47, Michael Suter, Christopher McDonald, 62, and Rodney Miller, 55, all of New Zealand.
The tourists killed in the crash were, Patrick Byrne, 26, of Ireland, Glenn Bourke, 18, of Australia, Annita Kirsten, 23, of Germany, and Brad Coker, 24, of England.
stuff.co.nz
Latest Headlines in Sri Lanka