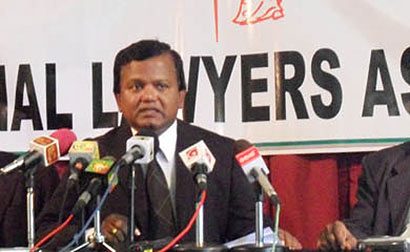 Attempts by lawyers to file motions in the Supreme Court contending that President Mahinda Rajapaksa was not eligible to seek a third term had been thwarted by the Registrar, the Bar Association of Sri Lanka (BASL) said yesterday.
President of the BASL, Upul Jayasuriya, addressing a hurriedly-summoned press conference at his association's auditorium in Hulftsdorp, said the reason that had been given for not accepting the motions was that the hearing on the reference by President Rajapaksa seeking a determination whether he was eligible for re-election had been concluded. "I can't believe this. What is the hurry to set a deadline for written submissions being made by 3 pm today? Beside, written submissions are filed at the end of an oral hearing.
The President's reference to the Supreme Court was made only on Nov. 5 and yesterday was a Poya Day. A presidential election has not even been announced. Surely, a two-week time period could have been granted."
Jayasuriya said that the BASL had written two letters to the Registrar of the Supreme Court on Nov. 5 and yesterday requesting that in view of the constitutional and grave importance of the issue being determined, it was essential that the public and the BASL representing 14,000 lawyers be granted an oral hearing but there was no positive response. "The fact that the President himself had sought a determination indicated that there was a doubt in his very own mind about his eligibility to seek re-election."
In terms of Article 129 (1) of the Constitution, President Rajapaksa on Wednesday referred the following questions for determination by the Supreme Court.
(A) Whether in terms of Article 31 (3A)(a)(i) of the Constitution, as amended by the 18th Amendment, I, as the incumbent President, serving my second term of office would have any impediment after the expiration of four years from the date of commencement of my second term of office on November 19, 2010, to declare by Proclamation my intention of appealing to the people for a mandate to hold office as President by election for a further term.
(B) Whether in terms of the provisions of the Constitution as amended by the 18th Amendment, I as the incumbent President, serving my second term of office was functioning as such on the date the 18th Amendment was enacted would have any impediment to being elected for a further term of office."
(Courtesy: The Island)