"Leadership training as scheduled", says Ministry
Posted by Editor on May 22, 2011 - 1:24 pm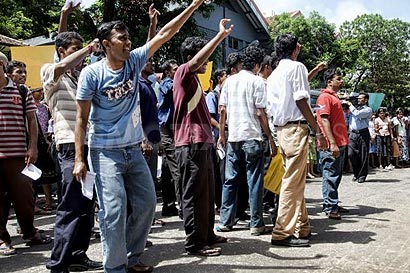 Training for students who are eligible to enter universities will be conducted as scheduled, says the Secretary to the Ministry of Higher Education, Dr.Sunil Jayantha Navaratna.
He told Sandesaya that the ministry has already spent about 90 million rupees on this project and can not stop.
The Supreme Court has directed the Attorney General to consult relevant authorities to postopne the training for a week if possibale as the matter is still being considered at courts.
Students' unions have raised objections to the scheme under which university entrants will have to undergo three weeks of training in military camps.
They petitioned the Supreme Court to try and stop the programme.
"It is waste of money if we are to stop this programme and embarrassment to various organisations in the country that are involved in the project," he said.
Globally employable students
"Our intention is to produce logical and practical people who are globally employable" he said.
Dr.Navaratne said students would be given leadership skills and mental and physical fitness.
United National Party MP former Education Minister, Kabir Hassim objecting to this scheme said that such a scheme has to go through parliament.
No consultation
"Members of the Higher Education Parliamentary Committee should be consulted before being implemented,"he said.
There are a number of factors including cultural sensitivities that need to be considered when implementing a national programme,parliamentarian, Kabir Hassim said.
BBC
Latest Headlines in Sri Lanka