Local Americans trying to kill me: Wimal
Posted by Editor on March 20, 2012 - 10:07 am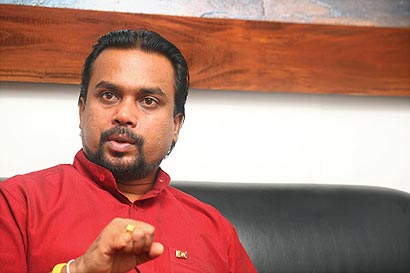 Minister Wimal Weerawansa today claimed that he had been subjected to a huge attack and local Americans were trying to kill him following a request he made to boycott American products.
"Yes, I made a request from our patriotic Sri Lankans to boycott America and American products to show our protest to the American sponsored resolution against Sri Lanka at the UNHRC sessions in Geneva and express our solidarity with the government. Surprisingly, the local Americans are attempting to kill me for making this statement," Minister Weerawansa said.
Minister Weerawansa said he never expected such a protest and uproar for making a statement of this nature. "I have now realized that there are so many media personnel who get excited by  such statements. It is surprising to know that there are so many American sons and daughters in Sri Lanka,' Minister Weerawansa said.
"It seems President Obama has travelled not only to Kenya but also to Sri Lanka as well. I do not care if they want to kill me. But what I said was to refrain from using American products and services.
The media has distorted my request and are attempting to interpret it as if I asked to boycott Sri Lankan products. I do not understand as to why they get so agitated when I asked to boycott foreign goods. They do the job when the US Embassy phones them to do the job," Minister Weerawansa said.
He stressed that the people of this country had a right to protest foreign influence.
"What I did was only a small protest against foreign influence on the country to show that there are people who love this country. There are patriots who are ready to face any risk on behalf of the motherland. American torch bearers are found in any country," he said.
Courtesy: DM Online
Latest Headlines in Sri Lanka