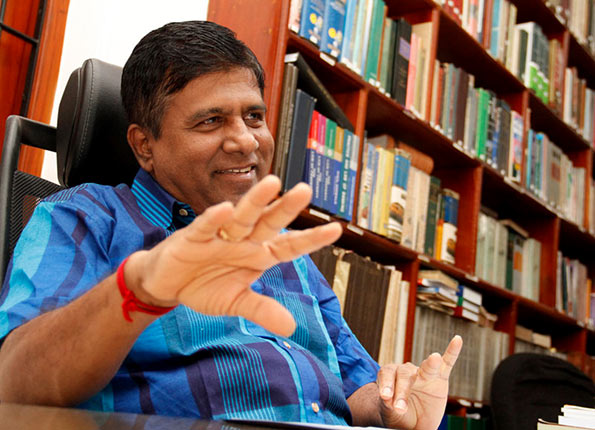 Former President Mahinda Rajapaksa is not qualified to contest the upcoming Presidential election, Higher Education Minister Wijeyedasa Rajapakshe said yesterday.
He said that according to the provisions of the 19th Amendment to the Constitution, a former President is barred from contesting any Presidential election.
The provisions stipulate that no President can hold the Executive Presidency for more than two terms.
He pointed out that some groups are trying to establish a notion that former President Rajapaksa could contest in the coming Presidential Election based on certain legal arguments.
Minister Rajapakshe further said neither former President Chandrika Bandaranaike Kumaratunga nor Mahinda Rajapaksa are allowed to run for a third term as the 19th Amendment to the Constitution does not allow so.
He said the Presidential Election Act states the seriousness of a disqualified person handing over nomination to contest in a Presidential Election. He pointed out that legal action could be taken against a candidate who gives a false statement on his or her qualification to contest at a Presidential Election.
"When a person wants to contest in a Presidential Election, he or she has to hand over his or her nomination along with a sworn statement which says that he or she is not a disqualified person to contest as a Presidential candidate.
If a person who has become a President twice, requests to compete as a candidate for a third term, that person will also have to give a sworn statement saying that he or she is not disqualified to contest. If such a statement be given, that would become a false statement. It will become a lie. According to the Penal Code Provision 190, a person giving a false sworn statement is subject to three years imprisonment," Minister Rajapakshe pointed out.
Minister Rajapakshe made these observations at a press brief held at Nawala yesterday afternoon.
Minister Rajapakshe, commenting on certain parties stating that they are going to seek the Supreme Court's opinion on the matter, pointed out that only the President can seek opinion from the Supreme Court with regards to it.
"No one other than the President can directly seek an opinion from the Supreme Court. Even if they do, the Supreme Court will discard the requests," the Minister added.
Asked if a person who has served two terms as a President is qualified or not to hold the post of Prime Minister, Rajapakshe said that it does not affect a person to hold office as a Prime Minister, a Minister or a Member of Parliament.
Asked when the next Presidential Election would be declared, Minister Rajapakshe said that President Maithripala Sirisena will be able to, if necessary, call for a Presidential Election at the completion of the fourth year of his office.
(Source: Daily News – By Amali Mallawaarachchi)