'Maithri-Ranil reluctants to punish Rajapakshe family'
Posted by Editor on May 28, 2015 - 8:37 am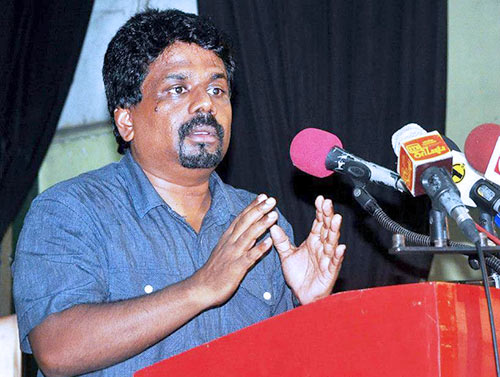 JVP leader Anura Dissanayake speaking at the seminar held in Kunrunegala Town hall has said that "I am certain that either president or Prime Minister will not facilitate the legal process to punishing the Rajapakshe family who have robbed several millions of public money" while explaining the seminar theme "100 days over, new programme for the country".
Kurunegala district leader and Provincial Council members of Wayamba Provincial Council, Namal Karunaratne and Dharmapriya Dissanayake were also participated along with several party members at this seminar.
AnuraDisaanayake further stated that even we had a good opportunity to punish entire Rajapakshe family including Mahinda Rajapakshe, basil Rajapakshe, Gotabaya rajapakshe, Namal Rajapakshe, Yoshitha Rajapakshe, Siranthi Rajapakshe, Udayantha Weerathunga and Nishatha Wickramasinghe; however it will not happen.
President Maithripala Sirisena is of the view that, if he takes steps to punish SLFP party members continuously, he will lose the party and the party leadership which is like a "Vilakkuaw" burning at both ends,  as such he is disturbing and delaying the legal process.
Speaking further at the seminar he stated that so far Secretariat for anti-corruption Committee has received 142 complaints and among them 92 have forwarded to Bribery and Corruption Commission, FCID and CID for further investigation and we are closely monitoring the process whether legal actions are taken or not.
(Lanka Truth)
Latest Headlines in Sri Lanka