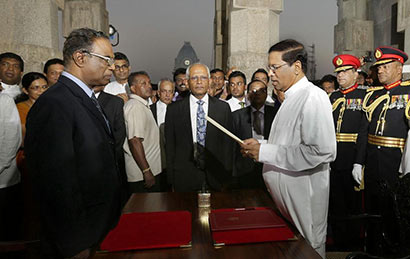 After his overwhelming victory at the yesterday's elections, President-elect Maithripala Sirisena commenced his first term in office after taking oaths amid the blessings from the religious leaders of all faiths, this afternoon.
President Sirisena was sworn-in as the 7th Executive President before Justice K. Sripavan during a ceremony held at the Independence Square.
Subsequently, leader of the United National Party (UNP) Ranil Wickramasinghe sworn-in as Prime Minister before President Maithripala Sirisena.
Former President Mahinda Rajapaksa who was seeking a third term in his office faced a defeat with President Sirisena polling in a majority of 51 percent at the 2015 Presidential election. Maithripala's New Democratic Front (NDF) has secured a significant victory in 12 out of 22 electoral districts after polling in 51.28 percent (6,217,162) of votes, while President Rajapaksa from the United People's Freedom Alliance (UPFA) polled 47.58 percent (5,768,090).
(Ada Derana)