Major fraud: Check the ATM before inserting your card
Posted by Editor on May 8, 2016 - 7:46 am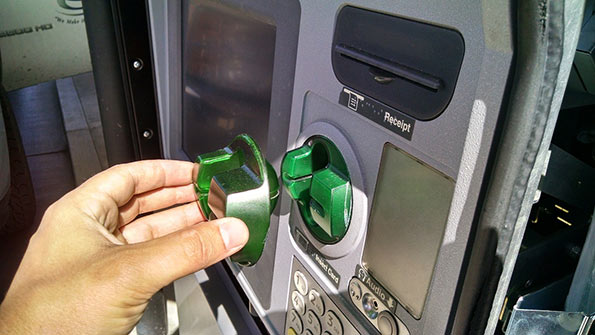 Users of Automatic Teller Machines (ATMs) have been warned by Police to be vigilant as a foreign gang is attempting to steal money from their credit and debit cards. This comes after yet another electronic device used to steal such information was found attached to the ATM of a state bank in Kandy on Thursday.
This discovery puts the number of ATM card skimming devices recovered by police to seven within two weeks. Criminal Investigations Department detectives said it was the largest and most extensive ATM card skimming operation they had come up against thus far.
Two Chinese nationals are already in custody in connection with the racket. The arrests last week came following a probe launched into the discovery of card skimming devices found attached to at least four ATM machines in Colombo.
A search of the suspects' hotel room led detectives to uncover a range of items including more card skimming devices, laptops, data storage devices and large amounts of local and foreign currency. Detectives say Thursday's discovery indicates that instead of going underground after the arrests in Colombo, the remaining criminals seem to have shifted operations elsewhere.
(Source: The Sunday Times)
Latest Headlines in Sri Lanka