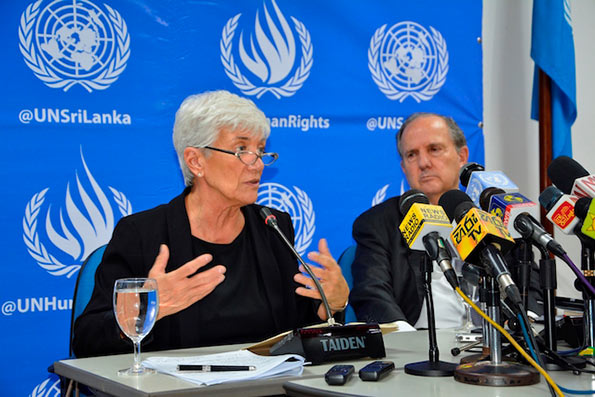 United Nations human rights experts on Saturday urged Sri Lanka, which is under scrutiny for its human rights record during the 26-year Tamil insurgency, to implement judicial reforms to speed up prosecutions.
Sri Lanka agreed last year to establish a judicial process involving foreign judges and prosecutors to investigate alleged war crimes during the conflict in line with U.N. recommendations.
The government has promised an impartial investigation into human rights violations by both sides in the final phase of the war, which ended with the military defeat of the Tamil Tigers separatist guerrillas in 2009.
"The government has changed, the war is over. But much of the war machinery is still in place," U.N. special rapporteur Monica Pinto told reporters.
The U.N. rapporteur on torture, Juan Mendez, said he had came across prisoners who had been detained without trial for more than eight years, some due to Sri Lanka's Prevention of Terrorism Act.
"First scrap the PTA, eliminate prolonged detention without trial in various forms, establish mechanism for real judicial and prosecutorial control over police investigations and things along those lines," he said.
(Reuters)