Malaysian police deny al-Qaeda links to MH370
Posted by Editor on May 5, 2014 - 11:47 am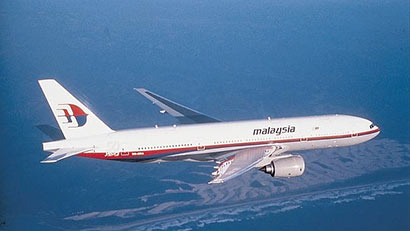 Malaysian police on Sunday rejected a British report linking the missing Malaysian flight with al-Qaeda, describing it as "rubbish."
Earlier, it was reported that a group of eleven suspected terrorists with links to al-Qaeda were arrested on suspicion of being involved in the disappearance of Malaysian flight MH370 and were being interrogated yesterday.
The suspects had reportedly formed a new terror group that is believed to be carrying out bomb attacks in Muslim countries. They were arrested last week in the Malaysian capital Kuala Lumpur and in the state of Kedah.
"That's rubbish! This has nothing to do with the plane," Inspector-General of Police Tan Sri Khalid Abu Bakar told The Star on Sunday.
Flight MH370 disappeared from radar screens in the early hours of March 8, about an hour into its flight from Kuala Lumpur to Beijing, after climbing to a cruising altitude of 35,000 ft.
No distress signal was sent from the lost plane, and about two-thirds of the 227 passengers and 12 crew aboard the plane were Chinese. The airline said other nationalities included 38 Malaysians, seven Indonesians, six Australians, five Indians, four French and three Americans. It is thought to have crashed into the Indian Ocean
Despite an extensive multi-million-dollar air and sea search, no trace of the plane has been found.
The Daily Mail had reported: "The interrogations come after international investigators, including the FBI and MI6, asked for the militants, whose ages range from 22 to 55 and include students, odd-job workers, a young widow and business professionals, to be questioned intensively about Flight MH370.".
Malaysian Islamist 'plot'
Last month, an alleged plot by Malaysian Islamists to hijack a passenger jet, in a similar style to the Sept. 11, 2001 attacks, was linked to the disappearance of Flight MH370, Britain's Telegraph reported.
The connection to the Malaysia Airlines flight, which went missing on March 8, was being investigated following claims from an al-Qaeda "supergrass" who recently spoke of a Malaysian plot in a New York court.
Saajid Badat, a British-born Muslim from Gloucester, had said that four to five Malaysian men had been planning to take control of a plane, using a bomb hidden in a shoe to blow open the cockpit door, according to the newspaper.
But in one of the most shocking revelations, Badat said that he had met the Malaysian jihadists in Afghanistan, given them a shoe bomb to use to take control of an aircraft, and that one of them was a pilot.
Badat had been giving evidence at the trial in New York of Sulaiman Abu Ghaith, Osama bin Laden's son-in-law. He told the court via video- ink that he believed the Malaysians, including the pilot, were "ready to perform an act."
The pilot of the flight, Captain Zaharie Ahmad Shah, had also increasingly become spotlighted by the media, after it was reported by Britain's Mail on Sunday that he was an 'obsessive' supporter of Malaysia's opposition leader, Anwar Ibrahim.
(Al-Arabia)
Latest Headlines in Sri Lanka