Maldives thanks President Mahinda Rajapaksa
Posted by Editor on September 28, 2010 - 11:24 am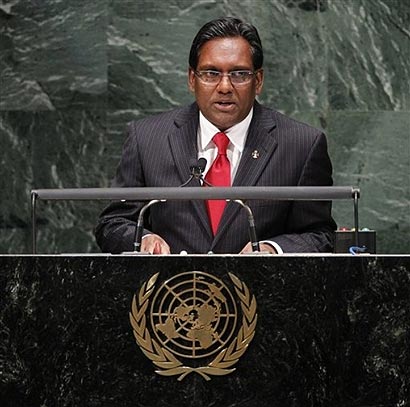 Maldivian Vice-President Dr. Mohammed Waheed Hassan speaking at the 65th Session of the UN General Assembly has thanked Sri Lanka and President Mahinda Rajapaksa for his support during the Maldivian political crisis while calling on the International Community to assist Sri Lanka in rebuilding after the 25 year period of conflict.
"I would like to thank the international community for their engagement and assistance to find a peaceful solution to the political conflict in the Maldives, especially President Mahinda Rajapaksa of Sri Lanka for his constructive contributions," the Vice-President had said.
He had further called on the international community to support Sri Lanka in her reconstruction and reconciliation efforts. "Furthermore the Maldives welcomes Sri Lanka's success in their reconciliation efforts and calls on the international community to support their efforts to rebuild a nation torn apart by 25 years of sustained conflict," Waheed said at the General Debate.
President Mahinda Rajapaksa visited Maldives in July this year and held talks with President Mohamed Nasheed (Anni) and former Maldivian President Abdul Gayoom. (Dianne Silva)
DM Online
Latest Headlines in Sri Lanka