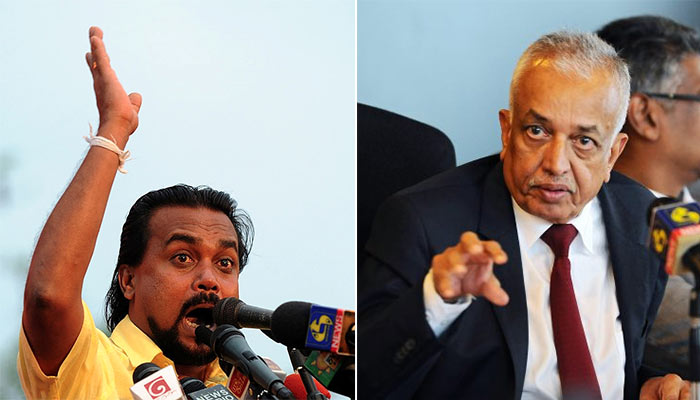 Development Strategies and International Trade Minister Malik Samarawickrema has urged Speaker Karu Jayasuriya to release a list containing names of 118 recipients of funds from tainted primary dealer Perpetual Treasuries (PTL) or companies affiliated with it, if such a list existed.
In a letter dated June 1, 2018 addressed to Jayasuriya, the former UNP Chairman explained that how he, too, was being vilified in the social media as one of the beneficiaries.
Samarawickrema sent a copy of his letter that had been copied to Attorney General Jayantha Jayasuriya, PC and IGP Pujith Jauasundera to The Island.
Samarawickrema said that he, under oath, had assured the Presidential Commission of Inquiry (CoI) that he didn't receive any money from PTL or companies affiliated with it.
Samarawickrema sought Jayasuriya's intervention close on the heels of National Freedom Front (NFF) leader Wimal Weerawansa's call to release the list when parliament resumes sittings next Tuesday (June 5). In a letter dated May 31, 2018, Weerawansa pointed out the existence of the list containing the names of 118 persons, including MPs that had not been presented to parliament. The MP asserted that allegations pertaining to PTL funds had humiliated the entire parliament.
Weerawansa told The Island that the Speaker could not turn a blind eye to the developing crisis.
Fresh crisis erupted after tainted MP Dayasiri Jayasekera, having admitted receiving a cheque in July 2015 from Walt and Row Associates, affiliated to PTL alleged that there was a list containing 118 names. Subsequently, civil society activist Keerthi Tennakoon alleged that among those who had benefited from the disgraced business group were 16 MPs representing the Government and the Opposition.
Tennakoon is on record as having said that among those recipients were professionals, civil society activists and religious leaders.
Tennakoon yesterday alleged that Secretary to the President Austin Fernando was making a bid to secure the help of the Attorney General to suppress the list.
Tennakoon told The Island that he was denied an opportunity to secure the list under the Right to Information Act or from the National Achieves.
Tennakoon said that his original allegation that a big chunk of the CoI report that had not been submitted to the parliament had been proved right. Subsequently, it had been revealed that over 5,000 pages hadn't been submitted to parliament, Tennakoon said, pointing out how parliament was deceived.
There had never been a corruption case that could be compared with the treasury bond scam, Tennakoon said, the Sirisena-Wickremesinghe administration could not deprive the public of their right to know the truth.
Tennakoon flayed the government for not taking action on the CoI recommendations submitted several months ago. Yahapalana leadership should be ashamed of their failure and brazen attempts to shield those who had benefited from the PTL as it would further aggravate the crisis, he said.
(Source: The Island – By Shamindra Ferdinando)