Mangala ready to join Govt. sans rewards
Posted by Editor on November 12, 2014 - 7:38 am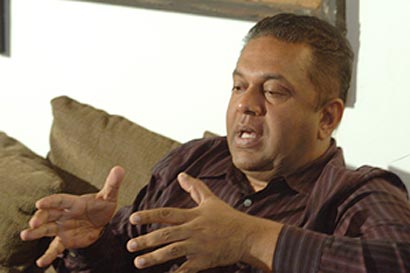 UNP media coordinator, Mangala Samaraweera, who is currently in Singapore, has informed government high rankers that he is willing to join them unconditionally.
The MP had earlier demanded that he be given either the portfolios as Minister for Ports and Aviation or that of External Affairs if he were to join the government.
His request was turned down. Samaraweera then had asked for an audience with the President and that too was rejected.
As his requests were continuously turned down, Samaraweera left for Singapore with his mind made up to rejoin the government, regardless of the position offered in return.
As these events unfolded, Samaraweera had also put forward five proposals to be considered by Opposition leader, Ranil Wickremesinghe. The proposals asked that Wickremesinghe step down as a possible Presidential candidate, the elephant symbol and the colour green be done away with and a common candidate be put forward to contest for the presidency.
The Opposition leader had however rejected those conditions and it was then that he left for Singapore from where he has now communicated to the government that he is ready to join the government with no strings attached.
(Courtesy: Ceylon Today)
Latest Headlines in Sri Lanka