Media Minister warns Opposition of another massive defeat at the General elections
Posted by Editor on February 18, 2010 - 2:34 am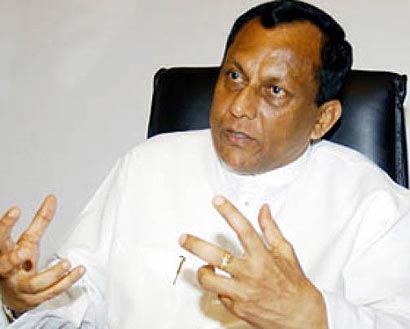 Asian Tribune – By Anjana Jayashan in Colombo
Media Minister Lakshman Yapa Abeywardene challenged the People's Liberation Front (JVP) leader Somawansha Amarasinghe to go to courts with their popularized allegation of "computer gilmart" at the presidential election.
Minister Yapa addressing the media at the ministry premises today (February 17) said "the United National Party and the Janatha Vimukthi Peramuna went to courts yesterday but had not mentioned a word about so called "computer gilmart".
"Instead they had mentioned over the misuse of state resources and corrupt practices at the presidential election which was concluded with a remarkable victory for the ruling United People's Freedom Alliance candidate Mahinda Rajapaksha on January 26, Minister Lakshman Yapa said.
"I challenge Mr. Amarasinghe to bring their popularized issue also before the court." Minister Yapa also said that "I do not need to remind you again but it was the UNP and the common opposition leader Ranil Wickremesinghe who accepted and told the media that the elections were being held free and fair at the election day evening".
Minister said that the common opposition failed to realize the pulse of the people and they were day-dreaming. He further added that the Elections Commissioner was more keen on the whole process of elections this time and he had followed a special measure to keep the transparency of the counting of ballot papers.
"Accordingly he had used carbonized copies of results as soon the counting was over. It was so transparent. What I have got to tell them is at least now accept the defeat of the presidential elections with a margin of 1.8 millions as the opposition has to undergo a massive defeat in the general election too", the Minister added.
Latest Headlines in Sri Lanka