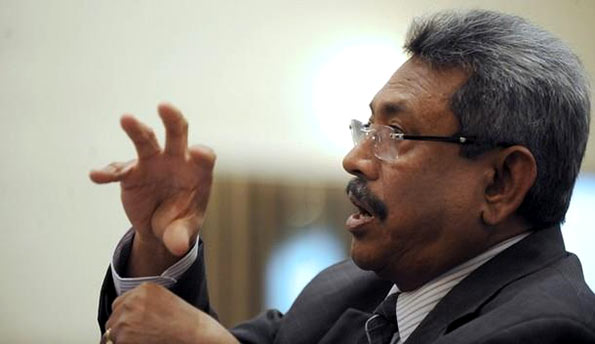 Former Defence Secretary Gotabhaya Rajapaksa dismissed former minister Mervyn Silva's accusations of being involved in the abductions and killings claiming he had not introduced any white van. In this wide ranging interview, while urging the former minister to study history, he also denied having any contacts with LTTE Leader Pulithevan and defended his decision to create Rakna Lanka
Excerpts:
Q: It is alleged that the then government wanted to save LTTE leader Pulithevan which led to the white flag incident and war crimes charges being pinned on government forces. Your comments ?
A: I don't know, you should ask that question from those who are making that claim. We did not have any contact with Pulithevan. I can't understand these allegations. Those who level these allegations contradict themselves. Not just Pulithevan even Prabhkaran, would have been rescued and rehabilitated had they surrended.
Q: What is your take on the UNHRC Resolution? The government says that it is the only way out to redeem the military's good name ?
A: The allegations are from just one side, I don't think the credibility of Sri Lankan Army has ever been tarnished. Foreign military and defence authorities congratulate us, whenever we meet.
Only the governments influenced by the LTTE diaspora are critical of the war victory.
We would have been in a better position under the former government. It will be just another partisan Resolution. The Cuban Ambassador once told me they have about 600 such resolutions against their country. I think the Foreign Ministry has made a blunder and got the country into a mess by becoming a party to it. Prime Minister Ranil Wickremesinghe maintained that there will be no foreign involvement. He was assured by the US Secretary of State John Kerry, somehow that pledge by the US were not honored.
Q: Do you think all these domestic mechanisms may ultimately be replaced by a full fledged international war crimes tribunal to probe alleged war crimes?
A: I don't know what the end result would be. There was a Japanese Judge who came down recently in this respect, he doesn't seem to understand the realities of our conflict. If local judges and prosecutors refuse to take part, which might happen, it will be an international mechanism.
Q: There are independent reports, such as the ICRC Report which said the civilian factor prolonged the end of the war and the 2011 Amnesty International Report estimating 10,000 civilian deaths, as well as the daily US Embassy cables to Washington. It is alleged 'over confidence' prevented the then government making use of these reports at the UNHRC?
A: No. The government has answered all those questions. Before the Paranagama Commission, the Census and Statistics Department undertook a comprehensive census of the North and East. International community purposely ignored it.
We have prepared many documents but none of it satisfied them. It is not easy to avoid civilian casualties in a terrorism war. Recently the US bombed a hospital. There is an exodus of refugees from Syria. In a situation like ours, who could distinguish between a terrorist and a civilian. This is the most important factor. Thirty years of LTTE records, show that weapons training was provided to civilians, even children and women. From 2006 to 2009, nearly 5000 military personnel were killed and another 25,000 were severely injured. That shows the intensity of Sri Lanka's war. The LTTE should have suffered more.
Q: Did the then government at any point cite these independent reports which has put the civilian death figure below 8,000 ?
A: Yes. The Defence Ministry compiled comprehensive reports from time to time. In those reports we have cited independent documents. We also referred to a UNICEF report. It was compiled immediately after the war, they quote the correct figures.
Q: The consensus resolution has called upon the Government to repeal the PTA and the National Security Act, and replace them with something more appropriate. Your comments ?
A: That is up to the Government and the security forces. There are similar laws in all the countries. After 9/11, the US too introduced a similar law. If the government wants to review it, then of course they must ensure security establishments are empowered in other ways to combat terrorism.
Q: Do you think there is a favorable environment to do away with these laws ?
A: Of course it is much better than 2005. We have created peace in the country for the present rulers. But when you take into consideration the global trends, not just LTTE but there are many other terrorist organisations that can exploit Sri Lanka. You cannot ignore the future threats and pretend that everything is fine.
Q: The Human Rights Watch Head Brad Adams who visited the country recently said the Tamil detainees without charges should be released. Your comments ?
A: Everyone here knows what this country underwent for 30 years. Most foreigners have no knowledge of our past. At the end of the war, there were nearly 5000 detainees. When I retired from the Defence Ministry, the number of detainees were 270 or less. Many ex-cadres were rehabilitated and reintegrated into society. Those in detention are hardcore terrorists. They were involved in many gruesome crimes, such as planning attacks in Colombo. Should such people be released? All the killings have ceased after 2009.
Q: Some claim the former government was a great success in handling the war but your strategy to counter international war crimes allegations failed.
A: There was an agenda by the international community. They kept shifting the goal post.
The demining was completed with the help of the military in two and half years when INGOs wanted 12 years to do that. Resettlement ended soon after. These actions were never recognized by the so-called champions of Human Rights.
Didn't we bring normalcy, peace and stability to the North and the East? We conducted the Provincial Council elections for the first time after decades and disarmed groups such as the EPDP, EPRLF, PLOTE who helped the government to fight the LTTE. It was done against friendly advice that this will strengthen the pro-LTTE TNA. I rememberDouglas Devananda and Siddharthan meeting me personally and cautioning me. And it came true.
Q: But there are allegations that the Defence Ministry handled paramilitary groups, such as the Karuna faction and EPDP to eliminate its opponents?
A: After the war, there was not a single incident in the North. None of these paramilitary forces were created by the Mahinda Rajapaksa government. These armed groups were there when we took over.
Even Karuna's breakaway happened before 2005. These people were armed by previous governments, not by us. These groups were used to fight the LTTE. I don't see anything wrong in that. In Iraq, the Americans did the same thing.
Q: A Former Minister of the Rajapaksa Government Mervyn Silva has accused you of white van abductions and had made himself a witness in Bharatha Lakshman and Lasantha Wickremathunga killings. Your comments ?
A: I don't want to respond to his claims. It is good that he had made himself a witness. He can give evidence against anyone. But I have not introduced any white van. In 1986 and 1989 colour vans -black, blue or green – were used to abduct youth in the South? Have the people forgotten that period, the headless dead bodies ? Mervin Silva must study history.
Q: The Special Presidential Commission is investigating the Avant Garde and Rakna Lanka private ventures, which were operated under your auspices, on financial irregularities ?
A: They must investigate. I have not earned a cent from those ventures. I have only one bank account which I have been using during my second Lieutinent days. There are mechanisms, to probe such malpractices easily and seek information from any foreign government.
As for Rakana Lanka, I have not committed any wrong in creating this company and in deciding to work with Avant Garde Security Services. It had helped to bring in millions of foreign exchange to the country and created job opportunities for ex-military people. We have helped to bring the piracy in the area almost to zero.
Rakna Lanka was started with Rs.4 million borrowed from the Treasury in 2006, at the end of 2015, this company was worth of Rs.4 billion. It had created nearly 3,000 job opportunities. If there are financial matters between the two companies, it has to be settled. Not just Avant Garde, the University Grants Commission owes, Rs.35 million to Rakna Lanka.
Q: The government accused that the assassination of Lakshman Kadirgamar in 2005 may have been a contract killing by the LTTE and his death helped Mahinda Rajapaksa to become the next President.
A: It was not a contract, the LTTE killed him. It happened during President Chandrika Kumaratunga's time. I am the person who investigated that killing and found who was responsible. The then government was clueless as to what happened.
(Source: Sunday Observer – By Manjula Ferando)