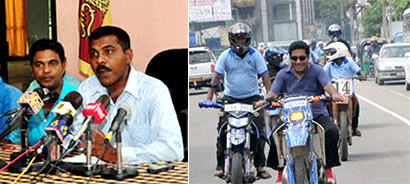 Chairman of the Kelaniya Pradeshiya Sabha (PS), Prasanna Ranaweera, expressed gratitude to President Mahinda Rajapaksa, for accepting the resignation of Minister Mervyn Silva from the post of Sri Lanka Freedom Party (SLFP) Organizer of Kelaniya, and alleged the minister would have killed them all, if he remained in the position.
Addressing a media briefing in Kelaniya yesterday, Ranaweera alleged Minister of Public Relations, Mervyn Silva, had the intention of killing all politicians who stood against him in Kelaniya.  "It was reported that one of the main suspects, who was involved in the murder of Hasitha Madawela, has confessed that other PS members, including myself, would have been targeted if the suspects were not taken into custody. The confession clearly shows that Madawela was not murdered over personal reasons. We also have reason to believe that his murder was carried out as a result of a contract worth Rs 3.5 million, given by none other than Minister Silva himself," Ranaweera alleged.
He claimed that Madawela was murdered due to his good services in improving the living conditions in Kelaniya.
"We were working towards freeing Kelaniya from the intimidation of Mervyn Silva. We demand the arrest of Silva over the killing of Madawela. Our lives are in danger as long as Mervyn Silva is allowed to move around freely," Ranaweera claimed.
"We would like to thank President Rajapaksa and Secretary Defence, Gotabhaya Rajapaksa for arresting the suspects within 24 hours of the murder. We also ask that the now vacant position of organizer for Kelaniya be filled as soon as possible, so that we may work together towards furthering the wellbeing of the Kelaniya people ," he said.
PS member Lanka Wijitha Kumara, Peliyagoda Urban Councillor Dharshana Ambawatte and Kelaniya Pradesheeya Sabha Vice Chairman, Chamila Dumidu, were also present at the briefing.
Ceylon Today