Military campaign was against LTTE and not against Tamils: Mahinda Rajapaksa
Posted by Editor on September 13, 2018 - 12:26 pm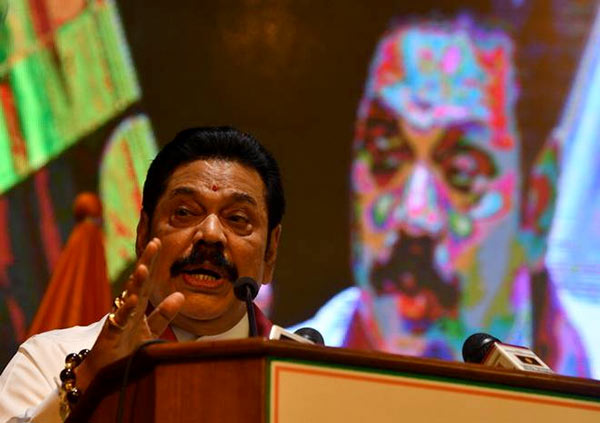 In a major public speech delivered in New Delhi on Wednesday former Sri Lankan President Mahinda Rajapaksa reached out to the Tamil community and said that the war of 2009 was against terrorism of LTTE and not against the community.
Mr Rajapaksa hit out at his international critics and said that allegations of human rights abuse against the victorious Sri Lankan military is "false".
"We did not at any time, wage an ethnic war: the military action was certainly not directed against the Tamil community. It must not be forgotten that the reach of this terrorist organisation was not confined to Sri Lanka, but extended to Indian soil where they assassinated Shri Rajiv Gandhi and many others," Mr. Rajapaksa said at the speech organised by Virat Hindustan Sangam led by BJP MP Dr. Subramanian Swamy.
The public speech, the first ever delivered by any Sri Lankan political figure in recent years dealt in detail with the war that began after the peace negotiation between the Sri Lankan government led by Mr. Rajapaksa, and the Liberation Tigers of Tamil Eelam (LTTE) broke down in 2006.
"Eradication of terrorism was not for the sole benefit of one community, or even for one country," said Mr. Rajapaksa arguing that not completing the military campaign that led to the killing of LTTE leader Velupillai Prabhakaran, would have amounted to "betrayal of coming generations."
The leader who is keen on a political comeback after being ousted by current President Maithripala Sirisena in 2015, said that the Sri Lankan military saved 300,000 Tamil civilians who were trapped in the last stage of the war from a narrow strip of land in the east.
"Extravagant numbers reaching up to 40,000 have been recklessly bandied about as the alleged scale of fatal casualties. This is false and malicious propaganda…the number of casualties, including terrorist casualties, would probably not have exceeded, 8,000," he said in response to the international campaign for justice for the persons affected by the war.
Earlier, introducing the speaker, Dr. Swamy said: "Mr Rajapaksa is the frontrunner for the next government and hopefully he will be President of Sri Lanka soon. He took decisive action against terrorism and cleaned up the country. As a result Sri Lanka is today a favoured destination of international investment."
Mr. Rajapaksa criticised the current government of President Sirisena saying that it undermined the sovereignty of his country and said that Colombo under the present rule cosponsored a move at the Human Rights Council in Geneva blaming Sri Lanka and its Armed Forces for the consequences of the conflict.
(Source: The Hindu)
Latest Headlines in Sri Lanka