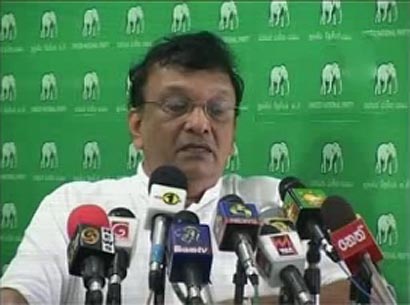 Leader of the House, Higher Education and Highways Minister Lakshman Kiriella said that the government was not aware of the whereabouts of Minister Mustapaha. "Prime Minister Ranil Wickremesinghe has instructed all MPs and Ministers not to leave the country during the budget debate. While that was so, it seems Minister Mustapaha has gone abroad.
"He has not informed us of his visit. He should have informed the government of his visit. The minister has acted in contravention of the instructions given by the Prime Minister", he told parliament yesterday.
Kiriella said Minister Musthapha had gone abroad even without informing the Prime Minister. At present, Musthapha is not in the country and he has not even officially informed the reason for going overseas, he told the House.
Minister Kiriella was responding to JVP Leader Anura Kumara Dissanayake, who demanded to know from the government as to how it would respond to the crisis situation prevailing in the country due to the delay in holding local government elections.
"While the country is in crisis because of not going ahead with the elections, the Minister responsible had been sent abroad. He should be in the country now to explain the situation to the House and the country," MP Dissanayake said, making a special statement.
The MP said that people have serious doubts of the continuous delay in holding elections. More than two years have lapsed without the poll being conducted. The reasons adduced by the government for postponing elections are not legitimate and acceptable.
The Court of Appeal has issued a restraining order preventing the holding of elections and against the gazette issued by the Local Government Minister, Faizer Mustapaha. The court has mentioned that the minister had acted in a manner exceeding his mandate.
However, the minister was not present in the court on the day court made that observation.
The minister has so far not been able to give the people an acceptable explanation with regard to the unprecedented delay in holding local government polls. Since then, the minister did not attend parliament. There are media reports that the minister has gone abroad, he said.
MP Dissanayake demanded to know whether the minister has gone abroad and for what purpose and whether his leaving the country was more important than addressing the crisis due to the delay in holding the poll, and whether it was a state visit or a private visit.
(Source: The Island – By Saman Indrajith)