Minister Responsible for Foreign Affairs of The Sultanate of Oman, calls on Professor G.L. Peiris
Posted by Editor on October 31, 2012 - 5:14 pm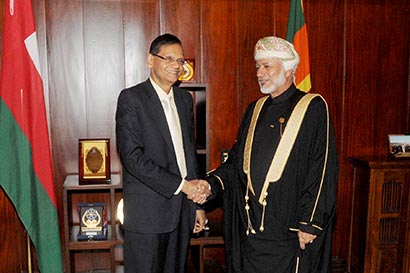 Mr. Yusuf bin Alawi bin Abdullah, Minister Responsible for Foreign Affairs of The Sultanate of Oman, called on Professor G.L. Peiris, Minister of External Affairs, at the Ministry.
Among the matters discussed were trade relations, with particular reference to tea and oil, investment opportunities and exchange of trade delegations, the proposed opening of a Resident Mission of Oman in Colombo, employment opportunities for Sri Lankans in Oman, and cultural co-operation.
The visit of the Foreign Minister of Oman takes place against the backdrop of Sri Lanka's initiatives to expand its historical ties with the Arab world.
Latest Headlines in Sri Lanka