Minister sets example by slashing his fuel allowance
Posted by Editor on February 22, 2012 - 7:47 am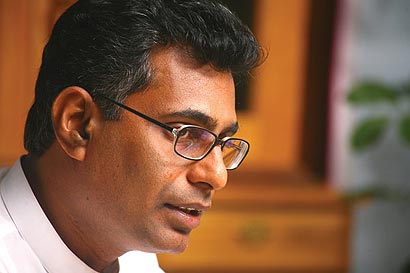 Power and Energy Minister Patali Champika Ranawaka yesterday set an example in energy conservation by directing his officials to reduce his fuel allowance by 10 percent.
The Minister who gave this directive at a management committee meeting held at the ministry also ordered officials to cut down the annual expenditure of the ministry too by 10 percent by cutting down on fuel and electricity usage.
Addressing the meeting the Minister noted that everyone including the big and small in society should contribute towards the maintenance of a sound national economy by using fuel and electricity sparingly.
A ministry release said that it was pointed out at the meeting that the recent fuel price hike was precipitated by an increase in world prices.
The public utilities commission had taken steps to respond to it by recommending the addition of a fuel adjustment charge to electricity bills. Consequently the annual expenditure of the Power and Energy Ministry too was likely to escalate, it was pointed out at this meeting.
The Minister directed heads of departments to prepare a comprehensive report on this matter and have discussions with the Finance Ministry regarding it.
Courtesy: Daily News
Latest Headlines in Sri Lanka