MINISTERIAL POST CAME TO ME AND I DIDN'T REFUSE IT: VASU
Posted by Editor on November 29, 2010 - 1:42 pm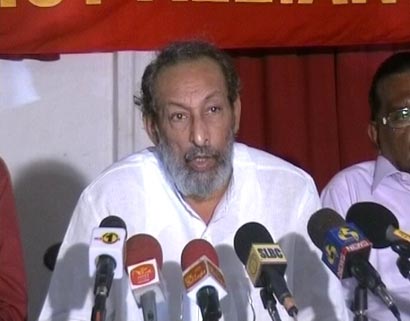 November 29, 2010: The ministerial post came to me and I didn't refuse it, says Vasudeva Nanayakkara, the new Minister of National Languages and Social Integration.
Addressing the first convention of the Joint Workers' Union of the State Distillery Corporation, which was suspended, in Kalutara yesterday, Vasudeva said that with the ministerial post came more power and while in the cabinet, one could submit proposals.
"This is the first time that I have been appointed a Minister. I did not like to hold a ministerial position due to my independence being restricted. I did not request for a ministerial post. I was happy with my parliamentary seat due to the political independence that I am entitled to.
"I see a ministerial position as an executive responsibility that restricts a parliamentarian's public representation. All my comrades wanted to bestow a ministerial position on me. The power is more and you are in a position to submit proposals.
"The ministerial post came to me and I did not refuse it," said Vasudeva.
Courtesy: News First
Latest Headlines in Sri Lanka