Misbah and Afridi sink Sri Lanka
Posted by Editor on February 27, 2011 - 9:02 am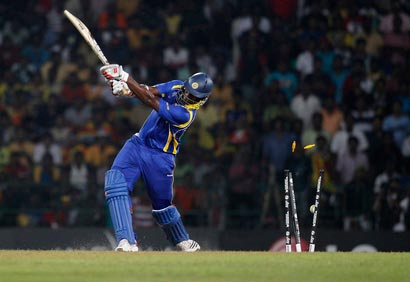 Pakistan 277 for 7 (Misbah 83*, Younis 72) beat Sri Lanka 266 for 9 (Silva 57, Afridi 4-34) by 11 runs
Anyone out there who still thinks Pakistan are not dangerous contenders for the World Cup? With tremendous poise and skill in the middle overs, Misbah-ul-Haq and Younis Khan propelled Pakistan, who were on a tricky 105 for 2 in the 21st over, to a strong 277, before Shahid Afridi and Shoaib Akthar produced bits of magic to derail the chase. Chamara Silva threatened to pull off a thrilling heist with a flurry of boundaries, and Nuwan Kulasekara made one heroic last-ditch effort to reduce the equation to 18 runs from the final over. Umar Gul, however, held his nerve to steer Pakistan home and end a mesmeric exhibition of high-quality cricket in Colombo
Pakistan's innings had everything: rapid start, brain fade, tranquil middle overs, fabulous end-over bowling from Muttiah Muralitharan, who gave only five runs from two batting Powerplay overs, and finally a Misbah blitz, with 32 runs flowing from the final three overs, which eventually made the difference.
The chase too nearly had it all: two inspired moments bursting with imagination and skill from Shoaib and Afridi, two failed stumpings, a dropped catch and a late surge from Silva, who woke up too late after a painstaking start.
In the 21st over, Shoaib produced a crafty offcutter, slightly slower and darting in from outside off, to breach the defences of Mahela Jayawardene and leave Sri Lanka stuttering at 95 for 3. In the next, Afridi ripped a loopy leg break that dipped rapidly on Thilan Samaraweera, who was sucked out of his crease and left stranded as Kamran Akmal effected a smart stumping. Akmal later missed two leg-side stumping chances to let off Kumar Sangakkara, on 22 and 33, off Abdur Rehman. The first one kicked more than Akmal anticipated and he had no excuse for the second. Rehman, himself, dropped a sitter to reprieve Silva. However, the twin blows had left Sangakkara with too much to do, especially with Silva struggling to get started, and he fell by holing out to long-on. Silva then stirred from his slumber to reduce the equation from 88 from 47 balls to 46 from 24. He slog swept Rehman for two fours and pulled Gul and Shoaib for more boundaries before he was stumped. Kulasekara took over the baton, whipping a 14-ball 24 but the task proved beyond him.
It was the batting that set up the game for Pakistan, as the Premadasa has always been cruel to the team batting second. Pakistan's innings stood out for its handling of the middle overs. Serenity blew across the ground after the fall of Kamran. Mohammad Hafeez had run himself out after a moment of madness and Kamran, who inexplicably withdrew into his shell after that mix-up, soon combusted, going for an ugly slog against Pakistan's bogeyman Rangana Herath. It wasn't quite a crisis but it definitely needed calm heads. Luckily for Pakistan, you can't find better men than Misbah and Younis to handle these moments. What followed was a perfect advertisement for the much-abused middle overs in an ODI. Two of the oldest members of the side ran beautifully, worked the angles intelligently, pinged the gaps frequently with the nudge-drive-and-sweep routine, and breathed life into an innings that could have, perhaps otherwise, succumbed to adrenalin rushes. If Misbah pressed back to play Murali, Younis leaned forward to tackle him; if Misbah backed to leg to create room, Younis shuffled to off to work to the leg; if Misbah tapped wide of midwicket for the quick single, Younis nudged just wide of backward point; if Misbah deployed the reverse-sweep, Younis stayed conventional. They always ran well. The runs kept ticking over, the opposition grew increasingly restless, and Pakistan secured ownership of the innings.
What further spiced up this partnership was the knowledge that the powerful lower order was waiting in the dressing room. When Younis fell in the 41st over, with Pakistan on 213 for 4, it even seemed like good news for Pakistan – Afridi and co to follow, unleash violence and 300 would be a formality. Or so it seemed. Here is where Sri Lanka sparkled. Here is when that man Murali and Kulasekara stepped in to do damage control.
While Pakistan's handling of middle overs was a treat to watch, Sri Lanka's skill in the end overs was awe-inspiring. Murali ripped his offbreaks, altering the trajectory, pace, and the extent of turn. Kulasekara punctuated his yorkers with slower cutters to keep Pakistan in check. Murali gave only two runs in the 44th over, the first of the batting Powerplay, and only three in the 46th, which included the wicket of Umar Akmal. Kulasekera gave away just five in the 47th, keeping Afridi quiet with a series of yorkers.
Misbah responded to Murali's magic by growing more innovative. He shuffled to the off and whipped Thisara Perera and Angelo Mathews for boundaries as Pakistan collected 32 runs in the last three overs to post a match-winning total. Misbah and Younis' presence in the middle overs had raised a few murmurs before this World Cup but there would be only voices of appreciation after tonight.
Source: ESPN CricInfo – Pix by AP
Latest Headlines in Sri Lanka