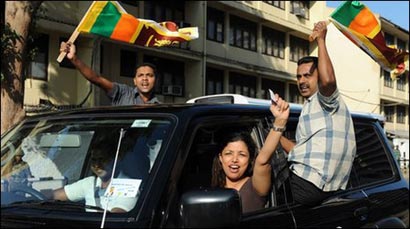 Source: BBC – By Saroj Pathirana
There has been a mixed response from London's Sri Lankan diaspora to President Mahinda Rajapaksa's re-election at the presidential elections. Mr Rajapaksa secured a sweeping victory over his main rival Gen Sarath Fonseka, who has rejected the result. While Mr Rajapaksa's jubilant supporters celebrated the news, the response from the opposition and minority Tamil community has been somewhat lukewarm.
Ratnakumara Welhenage, an IT professional from Northolt, says the incumbent president's victory means that Sri Lanka will have a prosperous future.
"The military victory over Tamil Tigers was the first great achievement for Sri Lanka in recent years. This is the second such victory. The people in Sri Lanka are the ultimate winners in this election," Mr Welhenage said.
His view represents a considerable number of London's Sinhala expatriates including the supporters of President Rajapaksa's Sri Lanka Freedom Party (SLFP).
However, supporters of main opposition candidate Gen Fonseka were left disappointed.
According to our sources in Sri Lanka, it was a free and fair election. People have selected their leader so you should respect that verdict
The president of the United National Party (UNP) in London, Roger Srivasan says the national and international communities should declare the election result null and void as the government "unleashed state terror" and "abused public resources" during the run up to the election.
Election monitors and the commissioner of elections have echoed similar accusations. But the margin of Mr Rajapaksa's victory was nearly two million votes and monitors and the UN have commended the relatively peaceful conclusion of the polls.
"History records when ambitious, self indulgent, self obsessed, corrupt, vicious undisciplined individuals without a conscience is thrown into power that nation becomes self destructive," said Mr Srivasan.
Sashie Peiris, who campaigned for Left Front presidential candidate Vickramabahu Karunaratne, agrees.
"The fact that President Rajapaksa has manipulated the result for his advance is clearly evident in the Jaffna district result. How can a virtually unknown Sinhala candidate, for example, receive more than 3,000 votes in Jaffna?" he asks.
But a London leader of a Tamil political party disagrees.
Gen Fonseka
Shanmugarajah Aravindan, the leader of the moderate Tamil United Liberation Front (TULF) in London says his party did not support any of the main candidates: "According to our sources in Sri Lanka, it was a free and fair election. People have selected their leader so you should respect that verdict."
Meanwhile, at a referendum held throughout the UK among the Tamil disapora, an overwhelming majority has endorsed the call for a separate country for the Tamils in Sri Lanka.
Polling took place during the weekend in sixty five booths across London and in major towns and cities throughout the UK.
"With over 64,000 votes cast, over 99% voted in favour of an independent and separate state of Tamil Eelam," a statement by the organiser Tamil National Alliance said.
It is estimated that there are over 200,000 Sri Lankans living in UK. Majority of them, both Sinhala and Tamil, living in London but there has been no official estimates over the disapora in London.
In London suburbs where Sri Lankan Tamils form considerable communities, such as East Ham and Wembley, people have been discussing the results in restaurants and community centres.
Many in the Tamil diaspora have been very vocal against President Mahinda Rajapaksa's policies, but they were not particularly hopeful of Gen Fonseka either.
Sooripillai Balasingham, who runs businesses in East Ham, says it is time, after decades of conflict, for the minority community to learn from the strategy of Tamils of Indian origin in Sri Lanka.
'Mistrust'
"Tamils in Sri Lanka in my view should support any sitting government and bargain for their rights," he says.
But analysts say Mr Rajapaksa's main challenger securing victory in many areas in the north and the east, where Tamils form the majority, can be seen as an indicator of minority community's mistrust in the current administration.
Dr Chandrika Iriyagolla, a locum GP who practices in south London, says she will respect the people's mandate.
But the daughter of a well respected educationalist and former minister, late IMRA Iriyagolla, says she regrets that people have decided to continue with "a corrupt government."
"The nepotism is widespread and a country with a great history is heavily indebted to the world," she added commenting on the recent credit facility offered by the IMF.