Modi, Obama walk the talk on nuke deal
Posted by Editor on January 26, 2015 - 8:17 am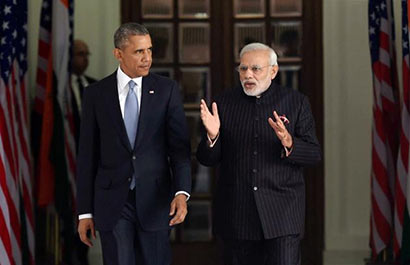 INDIA: A hotline that will now connect Prime Minister Narendra Modi and U.S. President Obama, a declaration of friendship, a renewed ten-year defence partnership, and the much anticipated nuclear breakthrough marked the second summit between the two leaders, taking relations to what Mr Modi called "a whole new level", and President Obama referred to as "powerful symbolism backed by substance."
Announcing an end to the nuclear logjam, President Obama said they had reached a "breakthrough understanding" that would allow nuclear contracts to be signed between U.S. firms and India. The agreement, including the completion of administrative arrangements, was a key highlight of the India-U.S. bilateral negotiations that marked the first day of President Obama's visit as chief guest at the Republic Day celebrations. "The civil nuclear agreement was the centrepiece of our transformed relationship," said Mr Modi, referring to his previous meeting with President Obama in September 2014, "I am pleased that six years after we signed our bilateral agreement, we are moving towards commercial cooperation, consistent with our law, our international legal obligations, and technical and commercial viability."
While the two sides didn't disclose how U.S. concerns over the Indian supplier liability law were addressed, both Indian and U.S. officials said "the deal is done," as far as the government's work was concerned.
The two sides also signed a renewed Defence Strategic framework, which covers all aspects of defence cooperation, including the Defence Trade Technological Initiative under which they could co-produce four "pathfinder projects", study cooperation on aircraft carriers and jet-engine technology, and committed to upgrading joint military and naval exercises.
On economic issues, surprisingly, the two sides didn't announce any agreements, but agreed to restart discussions on a Bilateral Investment Treaty, while setting up mechanisms to work through their differences on Intellectual property rights (IPR) and the social security agreement, or the bilateral totalisation agreement, that Mr Modi said is "Important for the hundreds of thousands of Indian professionals working in the United States."
The U.S. also made no specific financial commitment on renewable energy, although President Obama agreed to discuss "funding" for India's target of 100GW of solar energy.
(The Hindu)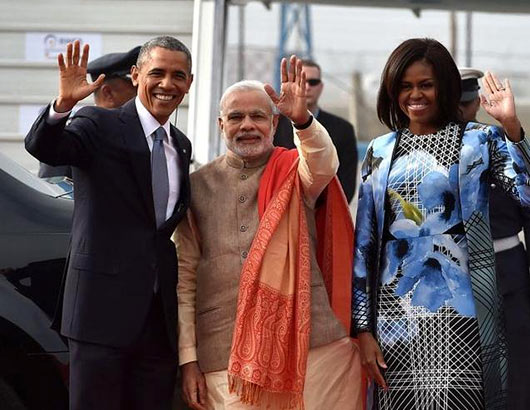 Latest Headlines in Sri Lanka