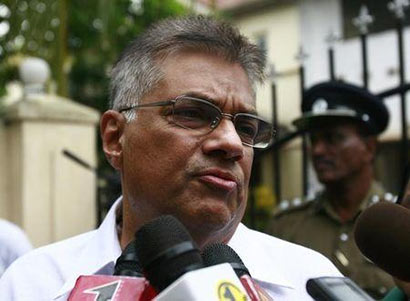 Prime Minister Ranil Wickremesinghe was planning to submit a comprehensive Cabinet paper on how the government should counter allegations against Sri Lanka in the report of an investigation conducted by Office of High Commissioner for Human Rights to be presented for the consideration of UN Human Rights Council when it next meets for its 28th session in Geneva on March 2015, a spokesman for the PM's office said yesterday.
The premier was planning to compile his report on the basis of three types of inputs, the spokesman said. He would hold a series of meetings with government officials and seek their recommendations and observations to be considered in compiling his report in coming days. Observations and suggestions by Foreign Affairs Minister Mangala Samaraweera, who is currently in Brussels, meeting European Union top officials too would be taken into consideration, the spokesman said, adding that Minister Samaraweera was due home from his present tour on Jan 29. The Prime Minister would meet President Maithripala Sirisena before compiling the report and would include the suggestions and modifications recommended by the latter in his report.
The final report would be presented to the Cabinet of Ministers for their approval, the spokesman added.
The Human Rights Council adopted a resolution in March 2014 requesting the Office of the UN High Commissioner for Human Rights "to undertake a comprehensive investigation into alleged serious violations and abuses of human rights and related crimes by both parties in Sri Lanka". The Council requested the High Commissioner to present a comprehensive report, resulting from that investigation, to its 28th session in March 2015.
(Courtesy: The Island)