MR, Namal should take legal action if falsely accused – More revelations pending – JVP
Posted by Editor on January 29, 2015 - 7:50 am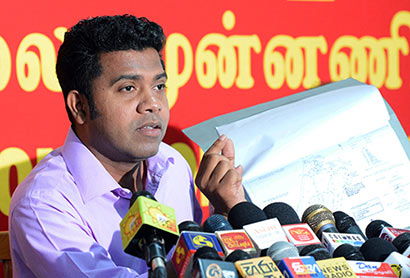 Former President Mahinda Rajapaksa and his son MP Namal Rajapaksa should take legal action if they can prove that they are being wrongfully accused of corruption, Janatha Vimukthi Peramuna (JVP) Western Provincial Councillor, Nalinda Jayatissa said.
"Both are lawyers. If they can prove that they are wrongfully accused of corruption or if they think there is an unfair 'media blitz' against them, they can go to Court. But instead they keep on making emotive statements," he said.
Jayatissa added that the JVP has accused the previous government of corruption even before President Rajapaksa was voted out of power.
"We have evidence to prove these allegations, and we will reveal more facts in the coming weeks," he added.
(Ceylon Today)
Latest Headlines in Sri Lanka