MR: No factions in SLFP, UNP will be defeated
Posted by Editor on July 27, 2015 - 7:23 am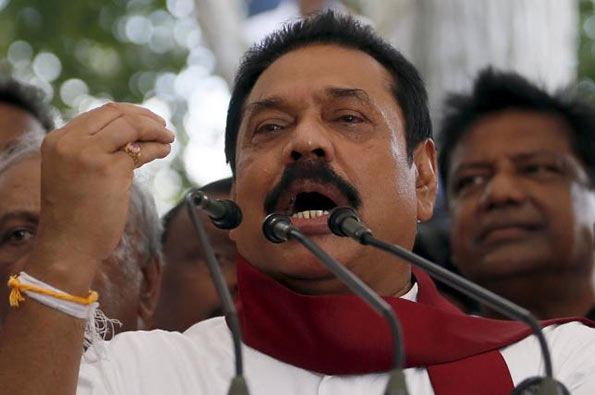 Former President and UPFA Prime Ministerial Candidate Mahinda Rajapaksa said yesterday that there were no factions in the SLFP and the party would go ahead as one entity to defeat the common enemy, the UNP.
Addressing the UPFA Matale District rally at the Naula Public Grounds, he said: "Now, we are working as one group to defeat the UNP at the August 17 general election."
He said that the SLFP-led UPFA would not form a national government after securing 117 seats in Parliament On August 17.
Rajapaksa said that after obtaining 117 seats, the UPFA would form a strong government on its own.
"The UNP has already admitted its defeat; it says it will form a government with the support of the Tamil National Alliance and the JVP after the general election," the former President said.
Rajapaksa said the TNA had already claimed self rule in the Northern Province, but a future UPFA government would not allow it.
He said the youth who had not lived under a UNP government especially during the 1987–90 period, now had realised what it was like during the past six months or so.
Rajapaksa said that JVP, too, worked together with the UNP today as rightly mentioned by its former leader Somawansa Amarasinghe, forgetting the mass killings of JVP members under the then UNP government.
The former President said that the next UPFA government would restart the Moragahakanda irrigation project which had been suspended by the present government.
Rajapaksa said though the UNP criticised his government for obtaining loans the Wickremesinghe administration had drawn more loans during the past six months.
"We will provide drinking water to all households as well as electricity," Rajapaksa said, adding that they would continue the fertilizer subsidy and introduce a Rs. 500,000 loan for self-employed at a low interest.
"We will increase Mahapola upto Rs. 6,000 after August 17. More than 1.5 million people who lost their employment due to stoppage of development projects would be re-instated and all those projects restarted forthwith.
Former Chief Justice Sarath N. Silva, Former Minister Wimal Weerawansa and Matale District SLFP leader Janaka Bandara Tennakoon, former minister Rohana Dissanayake, former deputy minister Laxman Wasantha Perera and several UPFA candidates also spoke at the rally.
Former Minister Nandimithra Ekanayake, who resigned from the Rajapaksa government and joined President Maithripala Sirisena was also on stage with former President Rajapaksa. He, too, addressed the rally.
(The Island)
Latest Headlines in Sri Lanka