MR not savvy of future techno trends
Posted by Editor on December 23, 2014 - 8:15 am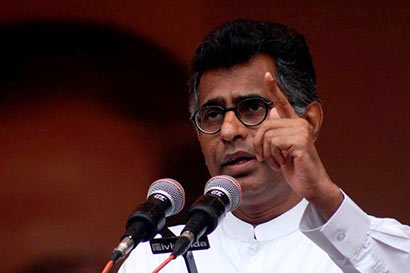 The Rajapaksa administration is utterly incapable making Sri Lanka a beneficiary of emerging technologies and if Mahinda Rajapaksa wins the 8 January election, the country will see an exodus of highly skilled professionals, Jathika Hela Urumaya (JHU) General Secretary, Patali Champika Ranawake said.
"The current technological trend is cyber technology and other Asian nations are leading the way. President Rajapaksa has no understanding about future technological trends. I have given him several proposals over the years about how to make Sri Lanka a beneficiary of new technological developments. However, he didn't even understand the need for a change in the direction of the economy," he said.
He added that 69% of the money allocated for universities went to the Kotalawala Defence University, while only 5% has been allocated for Peradeniya University. This shows that the current administration is not interested in developing public education to produce a skilled workforce to meet the challenges of the future.
"When J.R. Jayewardene opened the economy in 1977, we had cheap labour, energy, and easy access to foreign capital. Thus, in the first five years the economy grew by 300%. However, the economy shrunk again by late 1980s. Some say this was because of the LTTE but this is the natural end of such economic policies. Once labour become scarce, energy becomes expensive, foreign investors go. Thus we can't stick to the same policies, we need to adapt with change," he said.
(Ceylon Today)
Latest Headlines in Sri Lanka